How's it going my gumdrops? The above picture is a photograph of Stone Temple Pilots and Velvet Revolver's Scott Weiland. In this exact picture, he is shown embracing his mother, Sharon Williams. It's really touching yet very sad all at the same time.
Here it is 1 year later. Honestly, I expected for Scott Weiland to have died 20 years ago. There was nonstop media coverage about him being in/out of rehab throughout the years. At the same time, it was still a tragic surprise to learn about Scott's death on social media, last year.
Stone Temple Pilots was a major part of my youth during the 1990's. Throughout my childhood, adolescence, and early adulthood, I listened to many different types of music genres, sub-genres, groups, and soloists.
As a music lover, I still have MOST of Stone Temple Pilots' albums; I have their first 4 albums to be more specific. Don't get me wrong, it's not like I didn't grieve over Kurt Cobain and Layne Staley's deaths.
When Kurt died, I was just going into middle school. When Layne Died, I was on my way to my 2nd and 3rd colleges followed by hosting my own radio show. Scott lived longer than Nirvana's Kurt Cobain and Alice In Chains' Layne Staley combined. Scott was almost 50 and died from a drug overdose, last December 3rd.
Early Wednesday morning, I took a quick peak at the official Stone Temple Pilots page on facebook. I was curious to know if STP had finally decided on another replacement singer. Once I clicked on the band's page, I saw a picture of Scott Weiland wearing a black suit and a red hat.
On STP's most recent facebook status (October 27, 2016), it says "Happy Birthday Scott. We miss you." Below his picture, a fan posted "The day I heard he passed away... part of my youth went with him. Happy Birthday Scott. RIP." I cannot help sharing this exact sentiment.
After learning, that Scott Weiland died last December 4th, a considerable amount of my youth died with him, too. I grew up listening to Stone Temple Pilots. I was in 4th and 5th grade, when the band started getting airplay. Normally, I would get a Stone Temple Pilots album for my birthday. That was if I did NOT already buy an album of theirs at 12-18 years old.
In fact, I remember when the band released their 2nd album, Purple close to my 12th birthday. June 7, 1994. Wow! It's like my life just flashed before my eyes. Damn, do I feel OLD. In 1994, that was when Stone Temple Pilots reached their pinnacle as a band.
Their music videos were in heavy rotation on MTV AND VH1. Speaking of both these networks, they act like Stone Temple Pilots NEVER existed, which is a slap in the face to us veteran fans.
Last night, MTV Classic aired Classic Albums: Nirvana – Nevermind. The network really should've aired Stone Temple Pilots and Velvet Revolver in tribute to Scott Weiland.
MTV Classic is a piss poor representation of what MTV was during the 1980's and '90s.
As much as I loved Nirvana and grieved over Kurt Cobain, during my youth, Nirvana was NOT the ONLY Grunge band to exist. I am still reeling over the fact, that MTV and the media in general continuously cast Scott Weiland's death to the side.
Most act like Stone Temple Pilots never existed. When the media is NOT blacklisting Scott Weiland and STP as a whole, they will demonize Scott as if he was the only entertainer in history to EVER be a drug addict and alcoholic.
Loudwire: Filter's Richard Patrick Discusses Scott Weiland's Death (2016)
Oh, I just love how much Richard Patrick from Filter has so much to say about Scott.

No disrespect to my fellow Nirvana fans, but I feel that Scott Weiland was a MUCH BETTER singer and songwriter than Kurt Cobain. STP's Scott Weiland and Alice In Chains' Layne Staley were both phenomenal lead singers for Grunge bands. Kurt Cobain continues to be a highly overrated dead frontman in regards to Grunge.
Stone Temple Pilots' Scott Weiland and Alice In Chains' Layne Staley both had vocals, that made Nirvana's Kurt Cobain sound off-key with his incoherent babbling. Even Dave Mustaine from Megadeth could see Scott's talent, in the beginning.

Loudwire: Megadeth's Dave Mustaine Recalls Advice He Gave Scott Weiland (2015)
Meanwhile, I remember having a Stone Temple Pilots poster during the '90s and 2000. I managed to find an online picture of what my old poster looked like from my youth.

Vintage Stone Temple Pilots Poster Circa 1993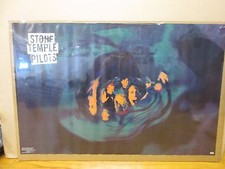 Too bad I had to throw it away. This exact poster ripped 16 years ago. I believe the main reason why I took Weiland's death harder than others is because I could really sympathize and empathize with him.
Scott was a talented entertainer, who suffered from rape in high school, was forced to mourn a baby that a significant other aborted years before STP's fame, the death of his brother, and other tragedies throughout his life.

Scott Weiland was a talented performer with severe substance abuse issues. Even though he was highly flawed, I can't help feeling his pain because I am an empath.
Since the time I was 12, I could actually feel his pain through the songs he wrote for Stone Temple Pilots. Now that Scott is dead, I feel his pain a lot more, whenever I listen to "Atlanta" and "Kitchenware & Candybars."
Because it is Song Saturday and the 1-year anniversary of Weiland's death, I wanted to share a few videos. Someone created their own video supposedly showing the 11 best moments and last performance by Scott Weiland.
Also, there are rare live performances he did with The Doors and Stone Temple Pilots. Before watching these videos, I want to share Sarah Michelle Gellar's condolences to Scott, his family, friends, fans, and bandmates.
Entertainment Tonight: Sarah Michelle Gellar Pays Tribute to Scott Weiland After His Death (2015)
Scott Weiland'S 11 Best Moments & Last Show (2015)
1) Stone Temple Pilots "Lounge Fly" Purple (1994); Live At Toronto (1993)
2) Stone Temple Pilots "Dancing Days" [Led Zeppelin Cover] Encomium: A Tribute to Led Zeppelin (1995); Las Vegas Secret Show (1999)
3) Stone Temple Pilots "Kitchenware & Candybars" Purple (1994); VH1 Storytellers (2000)
4) The Doors [Featuring Scott Weiland] "Break On Through" VH1 Storytellers (2000)
If you would like to learn more, here are links to other musicians sending their condolences and additional Song Saturday blogs about Scott Weiland.
Rockers React: Scott Weiland Dead at 48 (2015)

Song Saturday: Scott Weiland VS. Chester Bennington? You Decide! (2014)

Song Saturday: A Little Scott Weiland Tribute On Krampus Day (2015)

Song Saturday: Scott Weiland Christmas Block (2015)
Song Saturday: MTV VMA Flashback With Stone Temple Pilots (2016)

RIP SCOTT WEILAND!!! Thank you my gumdrops! Don't forget to like, subscribe, share, +1 on Google Plus, and leave your feedback in the comments section below!

How's it going my gumdrops? This has surely been a very unusual fall, especially this November. Because the weather has been so warm, it doesn't feel like it's fall. Then again, our temperatures took a massive nose dive within the last day.
On Thursday and during most of Friday, the weather was gorgeous. 65-72 degrees is abnormally warm for November in WI. Last night, our temperatures took a nose dive with high, gusty winds. Even though the last 2 weeks have been windy, it has been abnormally warm for both October and November.
The temperatures suddenly fell, during the late afternoon to early evening yesterday due to a cold front. A local meteorologist advised us NOT to bother raking any leaves over this weekend. The winds are too high and we would have to double our work by re-raking the same leaves.
Regardless, the weather is now starting to feel more like the autumn as opposed to the early spring and summer. We have been utilizing the warm weather as much as possible, this month.
In fact, I got a smidge of Christmas Shopping done on Thursday. There are still more family members to shop for. However, I refuse to shop on Black Friday. There are at least several holidays, that come before Christmas and Thanksgiving Day.
People need to spend more time enjoying Thanksgiving with their families and friends than rushing to the stores, chasing down the latest sale.
As much as I LOVE getting birthday and Christmas presents, there is more to life than frivolousness and being materialistic.
About 2 weeks ago, I thought about the fact that there are a lot of Christmas songs and covers of Christmas songs yet very little for Thanksgiving. Thanksgiving always gets the shaft. Since the holiday is about being thankful, you would at least expect there to be more songs about giving thanks and being thankful for what we have.
Yes, I am a complainer. At the same time, I AM thankful for some things in my life. I am thankful for the fact, that I am STILL alive 10 years later. My family and closest friends have witnessed the health scares I endured, throughout this decade.
Having to spend most of my 20's battling a severe bleeding disorder and never getting an official diagnosis from any of my doctors was HELL.
These last 6 years, I have been cured of my bleeding disorder and have spent these last 3-6 years trying to rebuild my life. When you have severe health problems and have to also worry about family members with THEIR health issues constantly, it really takes a toll on you physically, financially, and emotionally.
As I was previously saying, I realized there are very few songs for Thanksgiving Day. Earlier this week, some of the news reporters on my local Fox network also brought this up in a discussion.
How many of you have ever noticed, that finding songs specifically about Thanksgiving is really hard to come by?
The Kinks' Ray Davies and SNL's Adam Sandler are the only 2 entertainers, that I can actually think of with songs about Thanksgiving Day. Otherwise, we have to "wing it."
While hunting for Thanksgiving songs online 2 weeks ago, I discovered a few retro R&B and Jazz songs. Most of them are from the 1960's. Out of all 5 songs I have selected to share for today are songs named after side dishes. The first 2 songs by Dee Dee Sharp and James Brown are about the Mashed Potato Dance craze from the 1960's.
4 out of 5 of these Jazz and R&B songs have NOTHING to do with Thanksgiving Day. Although, their song titles could pass as Thanksgiving songs, since they mention mashed potatoes, sweet potatoes, apples, peaches, and Pumpkin Pie.
"Apples, Peaches, Pumpkin Pie" by Jay & The Techniques has been stuck in my head all throughout this entire week. The song is so catchy, that it has me humming the tune, which should say something.
If you would like to create your own music playlist for Thanksgiving Day, I say go for it! Turn off the Christmas Music and try something a little different for Thanksgiving Day. Anyway, here is my very own Thanksgiving Day Music Playlist for Song Saturday.

1) Dee Dee Sharp "Mashed Potato Time" It's Mashed Potato Time (1962)
2) James Brown & The Famous Flames "Mashes Potatoes U.S.A." Tour The U.S.A. (1962)
3) Booker T & The MG's "My Sweet Potato" And Now (1966)
4) Jay & The Techniques "Apples, Peaches, Pumpkin Pie" Apples, Peaches, Pumpkin Pie (1967)
5) Adam Sandler "The Thanksgiving Song" They're All Gonna Laugh At You! (1993)
What are YOU thankful for this Thanksgiving?
Thank you my gumdrops! Don't forget to like, subscribe, share, +1 on Google Plus, and leave your feedback in the comments section below!

How's it going my gumdrops? Is it just me or am I the only adult, who is jealous of kids for Halloween this year? I don't know about everyone else but my portion of Wisconsin will be warm, this weekend.
If you do NOT live in Florida, California, or another state(s) with sunny and warm weather, October's usually cold. Trick-or-treating at the end of the month always sucked in that aspect because the weather was usually cold.
Growing up, it was a little difficult flaunting our Halloween costumes mostly because we would be trick-or-treating in freezing cold weather. Normally we had to carry our coats and jackets with us, if not wear them OVER our costumes. If you didn't carry a coat or a jacket with you, there was a great chance you would be sucking on a cough drop because you were coming down with a cold within a matter of hours.
This Halloween in my hometown, it will be in the 50's and 60's. It may even reach 70 degrees on the day of Halloween! Consider children to be lucky this year. Yes, I know adults celebrate Halloween, too.
As for me, my family and I haven't celebrated Halloween in YEARS. My neighborhood consists of mostly retirees and senior citizens. Also, my street is mostly a ghost town. At the same time, it is 1 of the busiest main streets for drivers, which makes it noisy for us to sleep.
Meanwhile, you may have noticed on Thursday, that It's Not All Gumdrops & Unicorns was down, AGAIN. I have no idea what has been going on with Webs, lately. Usually, I don't have these types of glitches where this entire website is down.
Last week, Webs experienced server issues. Considering that a lot of popular websites suffered from DDOS Attacks last week, it would NOT surprise me if Webs had another DDOS Attack as well. Regardless, most of us with our own sites have been very irate. In case you missed the last blog, here it is once again.
On another note, today is the last Song Saturday of this month. If you were here last Saturday, you already know that you are getting another dose of Michael Jackson. You all knew this was coming, right? If not, you really should've.
The music video and song, "Thriller" off Michael Jackson's Thriller album were already considered classics before ever reaching 20 years. Normally, a song has to be at least 20 years old, in order to be considered "classic." I believe it is safe to say that almost everyone young AND old, and from all different walks of life STILL love "Thriller," 34 years later.
Generally speaking, had the music video for the song "Thriller" never been filmed, there wouldn't have been any singer or groups from various genres and sub-genres turning their music videos into short films. Just think about it.
How many in The Music Industry have turned their music videos into short films?
After "Thriller" was turned into a music video/short film, other mainstream musicians in the industry jumped on the bandwagon. Whether you love Michael Jackson or hate him, the man was not only a trend setter, but also had leadership skills.
I have NOT even had the chance to read all the accolades, that Michael Jackson earned and received over these last 3 decades or so.
In 2006, Guiness World Records had listed the music video for "Thriller" as the "most successful music video." Then 3 years later (2009), the Library Of Congress inducted the music video into the National Film Registry.
Supposedly, "Thriller" was the 1st music video to EVER be inducted into the National Film Registry for being "culturally, historically or aesthetically significant."
That right there should speak VOLUMES. Also, let's not forget that it is automatically a given that EVERY Halloween, someone somewhere around the world is celebrating the holiday with "Thriller."
During Halloween Season, Party City always advertises their stores using Michael Jackson's song.
Party City's Halloween Commercial Covering Michael Jackson's "Thriller" (2009)
That baby dressed in the devil costume looks so adorable. Anyway, here is Michael Jackson's "Thriller" for today's Song Saturday.

Michael Jackson "Thriller" Thriller (1982)
Thank you my gumdrops! Don't forget to like, subscribe, share, +1 on Google Plus, and leave your feedback in the comments section below!

How's it going my gumdrops? Did you get my e-mail notification, last night? If not, you are gonna love this. After typing Shinigami In Japanese Folklores at 9:20 am, during Thursday, I clicked the "Publish" button. Within a few seconds, It's Not All Gumdrops & Unicorns went down!
It was not only my website that went down, but also many other sites through Webs were down on Thursday. Luckily for us, It's Not All Gumdrops & Unicorns is back up and running! I would really appreciate, if all my subscribers read the previous blog about Shinigami in Japanese folklores. I explain in great detail about their history, the similarities and differences between Shinigami and The Grim Reaper, etc.
On another note, I mentioned last weekend that today and next Saturday will feature music videos by a notorious yet beloved Pop icon. Over these last 2 years, I have been reluctant to share any songs or music videos by this icon because of the slanderous remarks and allegations held against him, since 1993.
Last month, Cory Feldman was a special guest on The Dr. Oz Show. Cory explained about his life as a child actor, the substance and sexual abuse that he endured as a teenager, his bond with Michael Jackson, etc. What I learned about them both was quite interesting.
Cory Feldman mentioned, that he was introduced to drugs at age 13 by his father's assistant. That same assistant was his rapist. From 13 to 17 years old, Cory abused drugs. By the time he became of age, he quit. However, the mainstream news rags continuously printed lies about him as an actor. The same especially applies for Michael Jackson.
While talking on The Dr. Oz Show, Cory explained about his rough time in Hollywood as a teen. He had difficulty contacting Michael Jackson, during his rough times.Since Cory was still young, he did not quite understand that Michael was in a high demand because of Michael's fame. 
After con artists (including his own crooked, self-serving sister, LaToya Jackson) accused Michael of pedophilia, everyone had turned against him. These accusations caused him to become really paranoid. Michael had distanced himself from everyone including family and friends like Cory Feldman.
Considering Cory and Michael's past together as friends, Michael Jackson NEVER molested Cory. All the while, people in the media and other random nobody's are still accusing Michael Jackson of being a pedophile.
When mainstream news announced Michael Jackson's death 7 years ago, self-righteous Baby Boomer women, lonely housewives, Elvis Presley zealots, critics, cynics, and trolls wreaked havoc online over Michael's death.
On Soapnet, anybody who was a Michael Jackson fan and/someone trying to be the voice of reason got trolled with rape threats, death threats, derogatory slurs, etc. I am NOT saying this to sound like a Michael Jackson "worshiper." I have witnessed as well as experienced these vicious attacks on Soapnet and on other sites.
Slander and sexual abuse really hit close to home for some of us. They especially hit close to home for me.
You already know that I have spent an entire year having my reputation smeared by a sociopathic liar across Adult Swim's forum, while the head moderator colludes, plays favoritism, and condones such an atrocity. I also have my own history of dealing with sexual assault publicly, as a form of putting me in my place by an asshole jock, my high school senior year.
Whenever someone is a social outcast or is perceived as being highly influential, that person is BOUND to be seen as a threat to others AND can be treated as prey. 
People fail to realize that other people are indifferent to almost everything, including the truth today. Because they never had to deal with others trying to maliciously ruin their lives, they don't care. Until something similar happens to them, THEN they will care and want the whole world to care as well.
Originally, I did NOT intend for today's blog to be a long college lecture or a speech. At the same time, these are continuous issues that need to be addressed.

All it takes is for that 1 threatened person to unload the most malicious lies about his/her perceived threat to ruin his/her reputation and lives. When I say, "lives" I mean the demonized person's life as well as his/her family's life.
With that being said, these next 2 Song Saturday blogs will feature Michael Jackson's music videos. Today's video is extremely rare and is probably the longest music video that Michael Jackson has ever done.
Stephen King helped Michael Jackson write "Ghosts" and Stan Winston directed it in 1996.
"Ghosts" was filmed 20 years ago, but was unaired on major music channels like MTV. Michael Jackson became blacklisted after the 2nd set of child molestation allegations were held against him. Shortly after Michael's passing, some of his accusers had come forward and admitted to slandering him.
There is more to come next Saturday. The best way to watch this music video is to watch it on YouTube. That way, you can maximize the screen. Anyway, here is Michael Jackson's "Ghosts" for today's Song Saturday.

Michael Jackson "Ghosts" HIStory: Past, Present and Future, Book I (1996)
Thank you my gumdrops! Don't forget to like, subscribe, share, +1 on Google Plus, and leave your feedback in the comments section below!

How's it going my gumdrops? Did you enjoy yesterday's blog? Hopefully, you were able to learn something interesting and possibly new if you're not already a Grimm fan like me.
This upcoming week, I intend to explain more about another folklore. Don't forget to keep your eyes peeled. In case you missed yesterday's blog, the link is below.
Grimm's Final Season Premieres Next Year! (2016)
Meanwhile, I contemplated whether or not to publish another Song Saturday blog featuring Rap and/Horrorcore Rap Music, for this month. I will NOT publish more Horrorcore Rap blogs for Song Saturday, considering how extremely militant and divided our country is at the moment.
Maybe by next year, the havoc will have ceased and I will share another Horrorcore Rap blog for Song Saturday. It all depends on the situation.

Many of us are beyond political fatigue after reading, watching, and listening to the incessant race riots over the extreme disdain for police and this farce of an election. Let's TRY to make 2017 better than 2016.

If you would like to listen to Horrorcore Rap Music from the previous Song Saturdays, here are the following links:
Song Saturday: Horrorcore's Pioneers (2014)
Song Saturday: Tales From The Hood (2015)

Since there is no Horrorcore Rap Music for this October, here is some Horror Metal as a replacement. It comes from another friend from Horror-Punks.net. Over the last 3 nights, I talked with vocalist/guitarist Jimmy Evans from the band, Hollow Bodies.
I originally meant to share music from Hollow Bodies much sooner, but never had the chance until now. When I asked Jimmy to explain more about his band Hollow Bodies, he said that Hollow Bodies is a "sonic assault on your senses mixing Horror-Punk, Metal, and Rock."
Basically, the band's music genre(s) is a combination of Horror-Punk, Metal, and Rock. The typical subject matters that can be found in Hollow Bodies' music are about love, zombies, blood, and pizza.
You must have a dark and morbid sense of humor, in order to appreciate Hollow Bodies' music.
Right now, I am really enjoying the band's song "Infected Lust," which can be found on their Infected Lust EP from 2014. I asked the vocalist/guitarist (also a bassist for the band, Others) about Hollow Bodies' "Infected Lust."
According to Jimmy Evans, the song "Infected Lust" is about "finding a zombie, taking it home, and making love to it." He went on to say:
"I'll tell the crowd, 'Don't kill zombies. Take them home, cut a hole in its torso and make sweet love to it.' Hahaha! It always gets them going."
Gotta love Jimmy's dark and morbid sense of humor. If you want to learn more about Jimmy Evans and his band Hollow Bodies, check them out on YouTube, facebook, and on their website.
Anyway, here is Hollow Bodies' "Infected Lust" from their Infected Lust EP for today's Song Saturday.

Hollow Bodies "Infected Lust" Infected Lust EP (2014)
Thank you my gumdrops! Don't forget to like, subscribe, share, +1 on Google Plus, and leave your feedback in the comments section below!

How's it going my gumdrops? Did you "fall" into the season yet? Yes, I know. That was a really cheesy question to ask you about the fall season.
Throughout this week, I have been planning my blog schedule for this month. As long as no emergencies throw monkey wrenches into my plans, I should be able to publish more Halloween themed blogs. There are at least 2 Song Saturday blogs, that I have planned for the last 2 Saturdays of October.
It seems like most of my subscribers like Song Saturdays better than Cartoon Sundays. I believe more subscribers are indifferent to Cartoon Sundays because there are STILL those adults, who believe that animation is only for kids. All the while, some of those SAME adults will bum rush the lines at the movie theaters to go see the latest Disney movie.
Now Disney movies really ARE for kids!
Most of my Cartoon Sunday blogs feature animation for a more mature audience. That does NOT mean 5-year-old children. Some animation which is occasionally shared for Cartoon Sunday blogs CAN BE pornographic. However, the animaton I usually share is mostly violent and/has profanity in it.
I spent yesterday updating a Cartoon Sunday blog, which I published 2 years ago about Beetlejuice, considering that we are already on the topics of both my Cartoon Sunday blogs and animation. Updating that blog inspired me to publish a Song Saturday blog featuring the theme song to Beetlejuice.
While updating an older Cartoon Sunday blog about Beetlejuice, I noticed that Beetlejuice's "Critters Sitters" video was removed from YouTube. Therefore, it required a lot of hunting for another copy of the episode on another site.
Yesterday I linked that episode to my Cartoon Sunday blog, again. YouTube sure does love to remove and censor content, nowadays. So much for the company being about "broadcast yourself."
YouTube viewers can barely watch certain music videos and listen to certain songs anymore because they have been removed. Luckily, I was able to find Beetlejuice's theme song composed by Danny Elfman.
There are at least 2 different versions of the "Beetlejuice Theme Song." The version I found goes to the original 1988 movie for Beetlejuice, which samples parts of Harry Belafonte's "Day-O." I always loved the film version of Danny Elfman's "Beetlejuice Theme Song."
The film version of the theme song has more of a haunting sound to it combined with some really campy elements. Since we are now on the topics of Beetlejuice and Song Saturday, here is Danny Elfman's "Beetlejuice Theme Song" for today's Song Saturday.

Danny Elfman "Beetlejuice Theme Song" Beetlejuice Original Soundtrack (1988 )
Thank you my gumdrops! Don't forget to like, subscribe, share, +1 on Google Plus, and leave your feedback in the comments section below!

How's it going my gumdrops? This past week has been so chaotic offline with more family emergencies, that I did not have the chance to publish another blog. It was bad enough reliving the physical pain from my last car accident from 3 years ago.
Honestly, the last 2 months especially last month has been hell for my family and I. Hopefully, this month will be an improvement because I seriously need a break.
Yesterday, I changed the music on the main page. It's only fitting to have the original theme song to John Carpenter's Slasher, Halloween during the month of Halloween. It helps to set the mood. If I have some better luck this month, I may be able to publish a blog explaining about Shinigami in Japanese folklore.
The topic of Shinigami has been backburned, throughout this year. I really mean to explain more about it. Because 2016 has been so chaotic and the days have been so unpredictable, I have yet to address various other topics. It's not easy when monkey wrenches are constantly being thrown into your plans.

Speaking of Shinigami, if you are an Anime fan and have been subscribed to It's Not All Gumdrops & Unicorns within these 2 last years, you may recall me publishing at least 2 blogs about Shonen Supernatural Anime, featuring Shinigami.
Death Note is 1 of the 2 examples of Shonen Supernatural Anime, which features Shinigami.
If you watched the Anime for Death Note within the last 10 years via online streams in Japanese and/possibly on Adult Swim in English Dub, both the opening and ending theme songs should be very familiar to you. At least the opening and ending theme songs from Season 1, anyway.
"The World" Featured As Death Note's Season 1 Opening Theme Song (2006)
"Alumina" Featured As Death Note's Season 1 Ending Theme Song (2006)
Both songs were performed by the Japanese Rock band, Nightmare. The videos above are of Death Note except the opening and ending scenes are creditless versions from the Anime. "The World" and "Alumina" can both be found on the original Death Note Soundtrack and on Nightmare's 4th album, The World Ruler.
Nightmare has a somewhat eclectic musical style. The J-Rock band experiments with genres and sub-genres such as Alternative Rock, Progressive Rock, Hard Rock, Gothic Rock, Pop Rock, Heavy Metal, Jazz, and Electronica. Judging by the music sub-genres I listed, they are mostly a Rock band.
"Alumina" is still my favorite song by Nightmare, 10 years later. If I could, I would make this song my cell phone's ringtone. If memory serves me right, the character Misa Amane has "Alumina" as her ringtone in the Death Note Anime.
Nightmare originally formed in 2000 and over the last 13 years, the J-Rock band has released 10 albums and 30 singles. That is A LOT of singles for a band, that has not existed for 20-30 years.
Then again, I must remember that Japanese entertainers must always be involved in every little social event, in order to remain in the public eye.
There is so much more to learn about the band, Nightmare and J-Rock in general. Within the last month or 2, I had the music video for "The World" featured on my main page.
I don't know if most of you pay close attention to the main page here on It's Not All Gumdrops & Unicorns. I changed the music on the main page because I wanted to share some J-Rock for Song Saturday. I haven't done so in quite a while.
Also, I wanted to share more about Nightmare, since we are now in the month of October. Some of you have already been exposed to Nightmare and are vaguely familiar with the band because of Death Note.
Meanwhile, most people know very little, if anything about J-Rock, especially since K-Pop groups are currently "trending." If you want to learn more about J-Rock, you have to be open-minded and interested in listening to it.
Would you like to see more J-Rock and/J-Pop featured for Song Saturday? If so, let me know.
However, I will warn you in advance that Babymetal will NOT be on the list of J-Rock bands I will feature.
With that being said, here is Nightmare's "The World" for today's Song Saturday.

Nightmare "The World" Death Note Original Soundtrack (2006); The World Ruler (2007)

Thank you my gumdrops! Don't forget to like, subscribe, share, +1 on Google Plus, and leave your feedback in the comments section below!

How's it going my gumdrops? How did you enjoy yesterday's Q&A blog celebrating the 3rd anniversary of It's Not All Gumdrops & Unicorns? Even though there weren't as many questions this year, I still spent a lot of time answering some of your questions. I highlit my answers in green because a lot was explained in great detail.
Not only have I been working on yesterday's Q&A the last 3 days, but I have also been updating information on my Links page for Horror-Punks.net. I highly recommend all my fellow Horror fans to check out the relaunch. There is a message board for fiends to frequent and the site still has Horror Radio, H-P TV, news, and other features.
Horror-Punks.com used to have a blogging feature, IM chats, a message board, and social media profiles for us Horror-Punkers. Imagine facebook before Timeline and Yahoo IM with screaming and growling noises coming from your IM.
Additionally, rather than clicking the "Like" button, we clicked on "Stab." Hopefully, some of these features will return to Horror-Punks.net. Everything will be a work in progress.
If more fans join and rejoin Horror-Punks.net, they will be helping to revive the community.
Everybody can return to social networking among Horror fans. I believe Horror-Punks.com became less active because most of us are filmmakers, business and website owners, writers, bloggers, musicians, show hosts and hostesses, etc.
When everyone is so focused on their own content, the community is bound to have some kind of loss. This is all the more reason why Horror-Punks needs MORE Horror fans to socialize with each other. Therefore, if you are a Horror fan, run to Horror-Punks.net! Lord Marquis will be expecting you.
Now that fall has officially arrived as of yesterday, it is officially Halloween Season! Oh the horror! That reminds me, how many of you out there are terrified of clowns?
Approximately 2 years ago, I published a blog about Coulrophobia. I cannot speak for everyone else, but I am still reeling over the fact, that there is actually a phobia of clowns.
When you really think about it, being scared of clowns is somewhat hilarious for those who have zero knowledge of Pennywise The Dancing Clown. Tim Curry dressed as a clown is absolutely frightening.

Speaking of Horror and clowns, the coulrophobes may find today's Song Saturday to be too traumatizing for them. Last December, I published a blog featuring the Gothic Horror Instrumental composers, Midnight Syndicate.
Do you want to learn more about these Gothic Horror composers? Watch the video below.
About Midnight Syndicate (2014)
I knew nothing about these 2 composers until I joined Google Plus, last November. After discovering Midnight Syndicate, I found their music to be interestingly dark.
Midnight Syndicate's "Goons & Greasepaint" really helps to set the tone for the Halloween Season. With that being said, here is Midnight Syndicate's "Goons & Greasepaint" for today's Song Saturday.

Midnight Syndicate "Goons & Greasepaint" Carnival Arcane (2011)
Thank you my gumdrops! Don't forget to like, subscribe, share, +1 on Google Plus, and leave your feedback in the comments section below!
How's it going my gumdrops? Sorry about there not being any blogs published, last weekend or earlier this week. These last 2 weeks have been rough with sudden changes both on and offline.
In case you did NOT get the last e-mail notification, Horror-Punks.com has now been changed to Horror-Punks.net. Even though I mostly publish blogs here on It's Not All Gumdrops & Unicorns, there were several blogs I published on Horror-Punks as well. Therefore, I will be transferring my better blogs from Horror-Punks.com to Blogger. Blogger is my alternate blogging site after all.
Meanwhile, I was forced to postpone Song Saturday, Cartoon Sunday, and 1 of my Q&A blogs on It's Not All Gumdrops & Unicorns. Last Friday, I was in the middle of going to 1 of my doctor's appointments and my mother had to be rushed to the ER.
She is currently feeling better. However, my mother has been to the hospital at least several times, since September 9th. I almost had to cancel 2 of my appointments over these last 2 weeks because there is ALWAYS something wrong. Hopefully, today and the rest of this next week will be much better.
Aside from those issues, today is not only Song Saturday, but also Batman Day.
Batman Day is this Saturday, September 17
I won't sit here and act like I am a HUGE Batman fan, but I did enjoy watching the original TV series based on this comic book character. I wonder how many people know, that the original actor, who plays Mayor West on Family Guy is voiced by Batman's Adam West.
If you did NOT already know this, now you know.
While growing up during the late 1980's and '90s, it seemed like Batman became more popular than it was during the 1960's and earlier. Tim Burton directed the first 2 Batman films.
After Tim Burton directed Batman in 1989, there was a ton of Batman merchandise. The Batman bank and earrings, that I got as a little girl are somewhere. That same year was the year when Prince did the entire soundtrack for the movie. You may recall, that I mentioned this in my Prince Tribute blog this past spring.
Growing up, I was entertained watching Tim Burton's Batman and Batman Returns. Joel Schumacher's Batman Forever was the last Batman film I had watched.
In fact, I went to see Batman Forever at the theater with a middle school friend for my 13th birthday and it was the last Batman film I liked watching. George Clooney replacing his predecessors (Michael Keaton and Val Kilmer) was reason enough to make me NOT want to go see Batman & Robin.

I REFUSED to watch the other movies because I despise George Clooney with the passion and the reboots seemed too serious. I had no problem watching Michael Keaton and Val Kilmer as Bruce Wayne/Batman because I like both actors. They played quirky and eccentric roles in other films outside of the Batman franchise.
Batman, Batman Returns, and Batman Forever had campy yet brooding tones. The first 2 Burton films were campy much like the original TV series from the mid-60's. That was what Michael Keaton appreciated about Batman and Batman Returns.
After Warner Bros dropped Tim Burton as the film director for Batman Forever and replaced him with Joel Schumacher, Michael Keaton chose to leave the franchise. I remember the original being an R-rated film. Batman Returns was rated PG-13 yet parents complained about it not being "family friendly."
Michael Keaton declined and left the Batman franchise because he felt that the script for Batman Forever was too lighthearted in tone. When you watch the first 3 movies, you can tell the differences in tone. Batman Forever was not a terrible movie. I have yet to see the Batman reboots.
Even though I do NOT hate Christian Bale, the thought of him playing Batman really creeps me out. Watching Bale play Patrick Bateman in American Psycho makes me shudder. I still say the man played the role of a sociopathic and misogynistic serial killer a little too well.
Yes, I know Patrick Bateman was only a character in a novel and movie. The fact that there are actually men like Patrick Bateman existing in the real world makes it more terrifying.
Since this is mostly about the Batman franchise and today is Song Saturday, it would be fitting to revisit Siouxsie And The Banshees. A little over 2 years ago, I published a Song Saturday blog about this kooky Goth Rock band. 

Song Saturday: Siouxsie And The Banshees
Rereading that blog, reminds me of how much I have gone through over these last 3 years with toxic and indifferent people. Don't forget that September 23rd is the 3rd anniversary for It's Not All Gumdrops & Unicorns. I will be publishing my Q&A blog.
As I was saying, I had published a Song Saturday blog about Siouxsie And The Banshees over 2 years ago. I forgot to mention that they were featured on the Batman Returns Soundtrack in 1992. Siouxsie And The Banshees' "Face To Face" was also featured in the film.
Their song played while Bruce Wayne (Batman) and Selina Kyle (Catwoman) danced, during the masquerade ball scene.
Batman & Catwoman Come "Face To Face" (1992)
Anyway, here is Siouxsie And The Banshees' "Face To Face" for today's Batman themed Song Saturday.

Siouxsie And The Banshees "Face To Face" Batman Returns Soundtrack (1992)

Thank you my gumdrops! Don't forget to like, share, +1 on Google Plus, and leave your QUESTIONS in the comments section below or on the Contact page!

How's it going my gumdrops? In case you missed yesterday's e-mail message, I updated more blogs from the past 2-3 years, throughout this entire week. Because Webs' tech support has been somewhat uncooperative with me this year, I was forced to make a few minor adjustments to the header's font on It's Not All Gumdrops & Unicorns.

You may recall, more readers have recently joined It's Not All Gumdrops & Unicorns, last month. Also, I have changed the background again to get all my gumdrops in the Halloween Spirit, these next 2 months.
Guess what's creeping around the corner, during the month of September?
September 23, 2016 will officially be 3 years, since I built It's Not All Gumdrops & Unicorns. Usually, I reserve my Q&A blogs for this month. With my "cult following" growing on Google Plus, I was thinking about answering questions throughout the month of September, each week.
Whenever I asked for gumdrops to submit their questions, there would typically be at least 1 person bombarding me with 5,10-20 questions at a time. This makes it difficult to answer everyone's questions, when there are multiple followers with 10+ questions each. This is especially when some ask really complex questions, which can be turned into a blog.
To ALL my newbie subscribers, I will try answering AT MOST 2 questions from each subscriber.
In addition, I have also considered making updates to past Q&A blogs over these last 2 years to re-share with newcomers. Normally, I avoid answering questions about my political views and love life.
Considering that It's Not All Gumdrops & Unicorns is centered around entertainment, I tend to answer questions about hobbies, interests, likes, dislikes, and my background in general. If you have those types of questions, that would be great!
Aside from those updates, I thought about sharing a little Marilyn Manson to set the mood for Halloween Season. Recently, I noticed that I did not have a Song Saturday blog about Marilyn Manson. To warn you all in advance, I am NOT a huge fan.
I have enjoyed some of Manson's songs over these last 2 decades. However, he is not someone that I would want to interview, much less meet.
Does Marilyn Manson scare me?
Absolutely not. Even though the man is talented in doing artwork such as painting and I still feel, that he should've been casted as Trevor Goodchild in the Æon Flux movie, Marilyn Manson loves to be a narcissistic instigator. (I can imagine us "locking horns" with each other.)
This is along with the fact, that Manson tries TOO HARD to prove that he is a social outcast and deviant. After the media unfairly uses him as a scapegoat for tragedies such as the Columbine High School Massacre circa 1999, for example, he becomes the victim.
That shooting was NEVER Marilyn Manson's fault, but he gives the media more ammunition to demonize him with his ridiculous antics.

Do I blame Marilyn Manson for Columbine?
No, not at all. I was going on 17 when that school massacre happened. Until this very day, I still believe it was complete bullshit listening to the media and parents blame movies, video games, Marilyn Manson, several other bands, and the Goth Sub-Culture for the Columbine High School Massacre.
Those 2 domestic terrorists were NOT Marilyn Manson fans. Those 2 immediately saw through his extremely contrived facade, which is the only thing I can agree with them on. Otherwise, I think that blaming Manson for 2 domestic terrorists massacring high school teachers and students over high school girls rejecting them was bullshit.
That last statement is not something I'm exaggerating. I watched ABC's 20/20 special, earlier this year. The special featured the mother of 1 of the shooters, who published a book about her son and such a horrific tragedy. Watching that special reminded me what it was like being an angsty teenager, during the 1990's and being demonized for writing angry poetry for my own catharsis.
Even though I am an adult now, that part of me as a person never completely left. Whether I am on or offline, I still have to deal with demonization, negative labels, and being treated like a freak. I feel this is mostly why Marilyn Manson still has fans from Generations X and Y.
I may not be a huge fan of his, but I can empathize with the man to an extent and listen to some of his songs from 1994 to now.
Speaking of 1994, I was only 12 years old when I saw the music video for "Dope Hat." It aired on the music channel called, The Box. In '94, "Dope Hat" was a music video made by Marilyn Manson & The Spooky Kids.
While watching that music video as a 12-year-old girl, my reaction was, "What the fuck is that? This is like Willy Wonka & The Chocolate Factory on crack." As bizarre as the music video for "Dope Hat" was, I liked the song.
Then again, my interests have always been eccentric and Goth, since childhood during the late '80s. At that time, I don't believe "Goth" was a coined term yet.
Marilyn Manson and I do share a few similarities by coincidence, which is somewhat uncanny. This includes some fashion. About a year or so ago, I happened to stumble upon a YouTube clip of him on the Late Show With David Letterman from 2003.
In that clip, Manson wore the exact same Demonia Boots, that I still have from college. To get a better view, here's a photo of OUR boots.

Demonia Trashville Patent Leather Boots
College friends and classmates will tell you, that I wore those exact boots quite often between 2003 to 2006. Since we are in the middle of another Mercury Retrograde and because I already mentioned this music video, here is Marilyn Manson & The Spooky Kids with their video for "Dope Hat."

Marilyn Manson & The Spooky Kids "Dope Hat" Portrait Of An American Family (1994)
Thank you my gumdrops! Don't forget to like, subscribe, share, +1 on Google Plus, and leave your feedback in the comments section below!