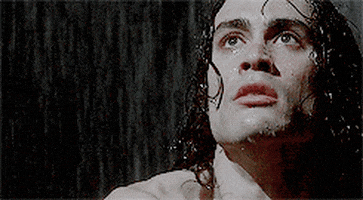 How's it going my gumdrops? Remember when I said, that I wouldn't be gothing it up hardcore as much this week? Well, I couldn't help it, especially not today.
The last 2 days, I have been updating more blogs that I published, throughout the years. In fact, I JUST updated a past blog, that I published about Bauhaus' Peter Murphy. Then, I linked that same blog into my most recent Cartoon Sunday blog.
Suddenly, I remembered that today is the day Brandon Lee would've turned 52 years old. I believe that he would've been a sexy, 52-year-old man had he STILL been alive today. Brandon probably would've also been getting more acting gigs.
Yes, I know. It sounds like I'm fangirling over a dead sexy (pun intended) actor more than 2 decades later. Honestly, I can't help it. Men with long, dark hair, especially if they happen to be musicians and/Goth have always been hard to get out my system.
Even though I retired from dating 10 years ago, dark hair, musicians, and Goths will ALWAYS be my types.
Aside from me having a certain type(s) of men, you already know that there are over 400 published blogs and counting on It's Not All Gumdrops & Unicorns.
Since it is the late Brandon Lee's 52nd birthday and because there are so many other people, who have never read my previous blogs about him, I thought I would share and re-share them with everyone for today.
All you have to do is click on this link and you will be directed to several links about the late Brandon Lee.
Thank you my gumdrops! Don't forget to like, subscribe, share, +1 on Google Plus, and leave your feedback in the comments section below!

How's it going my gumdrops? Happy New Year! Hopefully, you all enjoyed celebrating New Year's Eve and Day. Originally, I planned to publish a blog about Shogatsu, which is the Japanese New Year. It appears that I didn't end 2016 the way I intended. Let's just say that I ended 2016 with a bang, LITERALLY.
On the morning of New Year's Eve, I stayed up longer than I had wanted. Because my mother has a psycho alarm clock (we all think it's possessed, since it has a mind of its own), she needed me to remind her about her 4am dose of medication. To simply kill a little time, I watched a few Astrology videos on YouTube.
Already being tired from the day before, I dosed off in the middle of watching 1 of my Astrologer friends' YouTube vlogs. Apparently, I smacked my head REALLY HARD on the edge of our dining room table, while unconsciously leaning forward on a lower level dining room chair.
It was not until smacking the top center of my head, that I woke up with a headache. The impact from the smack caused some nasal pain. There is a possibility that I may have hit my head on my laptop's keyboard, in the process of hitting it on our dining room table.
Regardless, my head has been hurting on and off, since New Year's Eve.
Shortly after hitting my head, I used an ice pack for some pain relief. Hours later (the afternoon to be more exact), I was driven to the E.R. The medical residents did NOT perform any x-rays or scans to see if I had a concussion. They only tested my reflexes and asked some medical questions to see if I was coherent enough to know where we were and the time.
After those basic exams, the residents made me schedule a follow-up appointment with my primary doctor. Then, they told me to rest.
Yesterday, I attended my follow-up appointment and my doctor made me repeat the exact same tests, that I already did with the residents in the E.R. on New Year's Eve. According to my primary doctor, I do NOT have a concussion.
My primary doctor wants me to continue alternating between Ibuprofen and Regular Strength Tylenol for my headaches. This is along with using either an ice pack, or a heating pad for pain relief.
All in all, those trips to the hospital were a complete waste of time and money this week. On the positive side, I have no concussion, which I am glad.
So, what is on the itinerary for the very 1st weekend of 2017?
At the moment, I am unsure. However, I do intend to change the background scenery after January 7th, since Christmas Day will officially be over on the 8th for Orthodox Christians. It will be time to go red, again!

As you already know, I've had a rough end to 2016 and a rough start to 2017. Also, it doesn't help that my energy has been depleted, since last month with all the doctor's appointments and Christmas shopping. The doctors have told me to try taking things easy.
As long as nothing or no one throws any monkey wrenches into my plans, I would like to take a break and relax. This is really difficult to do, when someone always wants or needs something to be done for them. Therefore, I will try playing things by ear.
Aside from my head injury and trying to relax, do you have a favorite blog that I published last year?
I noticed that some of you have really enjoyed my blogs about folklores, especially when I explained about Shinigami in Japanese folklores. How about my interview with former White Zombie bassist, Sean Yseult? Or my Song Saturday and Cartoon Sunday blogs?
Are there any favorites from those particular blogs? If so, let me know. I would love to have your feedback! It lets me know what you would like to see more of on here.

Anyway, thank you my gumdrops! Don't forget to like, subscribe, share, +1 on Google Plus, and leave your feedback in the comments section below!

How's it going my gumdrops? How was your YuleChristmaHanukkah? Hanukkah's still being celebrated (if memory serves me right), along with Christmas. Don't forget that Orthodox Christians don't celebrate Christmas Day, until January 7th.
The Orthodox Christians are somewhat lucky in that regard. All their presents will be on clearance. So, you may be wondering, "Anna, what did you get for Christmas?"
Shoes, candy, clothes, jewelry, a snow suit and rainboots like I wanted for having to shovel up all our snow, 4 pairs of ear buds and head phones, an abstract art painting, which was custom made by a long-time college friend of nearly 15 years, glycerin bar soaps, another cordless mouse for my other laptop, and another winter coat for this Christmas.

Hopefully, you were able to enjoy the holidays despite all the tragedies in the news. Lately, I dread turning on my TV and laptops. It feels like there is a celebrity death toll almost everyday.
This most definitely applies to legendary actors, actresses, and talented music icons.
I am sure many of you will probably roll your eyes at me for continuously mentioning Stone Temple Pilots' Scott Weiland. Even though he died last December, I believe his demise caused a domino effect of legendary entertainers (mostly iconic musicians) dying, throughout this year.
The death of Motorhead's Lemmy Kilmister on December 28, 2015 was a brutal segue into this year, regarding music icons. At the very beginning of 2016, we all lost David Bowie, who was also a major musical influence to the late Scott Weiland and many others.
Very much like Lemmy Kilmister died 4 days after his birthday from Prostate Cancer, Congestive Heart Failure, and Cardiac Arrhythmia, David Bowie privately died from Liver Cancer 2 days after his birthday.
Then, 1 day after Valentine's Day, Prince's protegee Vanity died from Renal Failure. Literally 2 months later, HE died.

Everyone knows that people die everyday by the seconds. However, I have NEVER in all my life ever heard about so many LEGENDARY entertainers dropping like flies by the nano second the way they have in 2016.
2016 has been a really cruel and shitty year for so many of us, that we can't wait for it to be over. Without a doubt, 2016 EXCEEDED my expectations of being a horrible year. So many lives have been taken, during this year, that lately I have even cried about it.
Whether it was just the average man, woman, child, or an iconic celebrity, loved ones have been in mourning. All these deaths will surely make grief counselors and funeral homes richer, if not already.
Let's all hope and pray that we can survive 2017 without there being so many deaths in general. I was going to publish another Song Saturday and Cartoon Sunday blog to end this year, but have changed my mind. These last 2 weeks have been extremely exhausting.
If I have enough time and energy, I intend to publish more blogs at the start of 2017. With that being said, RIP George Michael, Carrie Fisher, Debbie Reynolds, and to all those who lost their lives in 2016! I wish you all a very happy and more prosperous new year!

Thank you my gumdrops! Don't forget to like, subscribe, share, +1 on Google Plus, and leave your feedback in the comments section below!

How's it going my gumdrops? Can you believe that today is the day, that the Slasher Horror film SCREAM released in movie theaters 20 years ago?! Wow! Where has the time gone? In 1996, I was only 14 years old.
During that same time, Beavis And Butt-Head Do America released and I went to see that movie with my uncle. Yes, you read that correctly. Both SCREAM and Beavis And Butt-Head Do America are celebrating their 20th anniversaries today.

Because you must be AT LEAST 17 years old, in order to go see an R-rated movie, I never watched SCREAM on the big screen. Yes, I know. Adolescents under 17 would sneak into an R-rated film, if they did NOT have a parent or another adult to take them to go see it.
However, that was never the case for me. By the time I was 14 years old, I normally rented R-rated movies with my mother at local video stores. In order for SCREAM to get an R-rating, a few scenes actually had to be deleted.
In the 2011 documentary, SCREAM: The Inside Story, the cast and crew mentioned, that some scenes were removed from SCREAM.
Do you remember those scenes of Drew Barrymore playing the character, Casey?
Ghostface sadistically grilled her over the telephone about Classic Slasher films and their moral villains. The filmmakers had to delete this scene of Casey's boyfriend being gutted on the patio.
1) SCREAM [Deleted Scene]: Casey's Boyfriend Steve Is Gutted (1996)
The filmmakers also had to edit scenes of Casey being hung from a tree.

2) SCREAM [Deleted Scene]: Casey Hanging From The Tree (1996)
Here are 3 more scenes that were removed from the movie, SCREAM.

3) SCREAM [Deleted Scene]: Tatum's Death By Garage Door (1996)
4) SCREAM [Deleted Scene]: Kenny The Camera Man Gets His Throat Slit (1996)
5) SCREAM [Deleted Scene]: Stuart's Hand Drips A Puddle Of Blood After He & Billy Stab Each Other (1996)
Now that you have watched SCREAM's deleted scenes from above, it is only fitting to revisit these past blogs from 2014. While I was on social media yesterday, I re-shared my previous blog regarding a review, that I published about Christmas Slashers.Those Slashers date as far back as 1972.
Most people are unaware that Christmas Slashers are some of the roots to the Slasher Horror genre. Without Christmas Slashers, John Carpenter's Halloween would've never existed today. If you read my Christmas Slashers review, I explain about this.

My Christmas Slasher Review (2014)

Since we are on the topic of SCREAM, the franchise still appears to be a very popular franchise 20 years later. In fact, I was quite surprised that MTV chose to remake this 20-year-old Slasher Horror film into a TV series.
You may be wondering, What do you think about MTV remaking SCREAM into a show?
Truthfully, it was highly unneccesary for a network, which was originally dedicated to airing MUSIC VIDEOS to be jumping on the bandwagon of remaking films. Even though I never bothered to watch the TV series for SCREAM, it's quite evident that Hollywood filmmakers and screenwriters are seriously in need of MUCH newer and a lot more ORIGINAL material.
It appears that most filmmakers today are too hung up on their nostalgia. This Slasher did NOT need to have its own TV series in this era. It would've made sense if SCREAM had its own show, during the time when the film was popular in the late 1990's.
Other than that, MTV and the creators of SCREAM's series are desperately reaching for viewership. The trilogy had its time and needs to stay in the past without Hollywood filmmakers ruining its legacy for money.
Now, let's take a murderous trip down memory lane by watching the documentary SCREAM: The Inside Story. The uncensored version of this documentary, which I originally uploaded to the following blog, was removed from YouTube.
Therefore, I was forced to update my blog with a censored version of it. So, bear with me. Anyway, here's SCREAM: The Inside Story to celebrate the 20th anniversary of SCREAM.

SCREAM: The Inside Story  (2014)

Thank you my gumdrops! Don't forget to like, subscribe, share, +1 on Google Plus, and leave your feedback in the comments section below!

How's it going my gumdrops? This blog ALMOST didn't get published today. After going on Christmas shopping sprees for 4 days straight and shoveling snow twice yesterday, my body is killing me.

PROTIP: Never go on Christmas shopping sprees for 4 DAYS STRAIGHT, then shovel nearly 1 foot of snow a day later. Otherwise, you will be really stiff and sore for days.
Aside from the protip, most of us are down to the last 13 days before Christmas Day. Do you know what's happening these next 13 nights? Iceland's 13 Yule Lads start to wreak havoc all throughout these next 2 weeks.
Some of you may remember that last year, I published a blog about the 13 Yule Lads. For those of you, who were not here last December, I explained in detail about these mischievous lads.
Much like Saint Nicholas and Krampus, the 13 Yule Lads reward nice children and punish the "naughty" children.
Since today is December 12th, Stekkjarstaur or "Sheep-Cote Clod" is the 1st Yule Lad to arrive tonight. Tonight is the night, when this stiff and peg-legged Yule Lad starts to harass the sheep in the towns of Iceland. The 13 Yule Lads actually dwell in the mountains.
On December 12th, Stekkjastaur departs from the mountains to harass the sheep in towns. Then, he returns to the mountains on December 25th (Christmas Day).

Stekkjastaur not only departs from Iceland's mountains to arrive in town to harass the sheep, but he also has the ability to reward and punish children. All the well-behaved children are to be rewarded with a Christmas present in their shoes. The misbehaving children, on the other hand, receive potatoes in their shoes.
Potatoes are much better than being given lumps of coal and being whisked off to Hell by Krampus, right? At least potatoes are edible compared to coal. Like I said earlier, as mischievous as the 13 Yule Lads are, they act as Krampus and Saint Nicholas in Iceland. It really all depends on the child's behavior.
To learn more about the 13 Yule Lads, click on the link below.

Thank you my gumdrops! Don't forget to like, subscribe, share, +1 on Google Plus, and leave your feedback in the comments section below!

How's it going my gumdrops? Gruss vom Krampus! In case you did not already know or in case you forgot, today is Krampus Day. Krampus is Saint Nicholas' evil sidekick, who shows up every December 5th to punish "naughty children."
Growing up, I never learned about this evil goat demon from teachers or my family. Some of my classmates did not necessarily know anything about Saint Nicholas Day being on December 6th, which I always found to be very odd.
Some classmates not only knew NOTHING about Saint Nicholas Day, but Krampus Day was also NEVER discussed in neither of my elementary schools, nor middle school. It was probably because our teachers did NOT want to traumatize us. Otherwise, they probably never heard of him either.
I recently learned about Krampus 3 years ago from watching Grimm on NBC. Speaking of Grimm, I will really miss watching this show after its series finale, in the spring. As comical as the writing is, viewers have been exposed to some international folklores and Germanic terms for describing various creatures known as "wesen."
The series also gave me a reason to start watching primetime shows on Fridays again, over these last 5-6 years. I would've tried sharing that Krampus episode from Grimm today, but no thanks to Hulu, only viewers subscribed to their site can watch online streams now.
Since that is the case, I have decided to share footage of a Krampus Parade instead. Last month in Schladming, Styria (a former small mining town in the northwest of Austria), a Krampus Parade was held. It is normally called Krampuslauf meaning "Krampus Run."
Over 1200 Krampus celebrants dressed as the beast in black rags and masks drag chains behind themselves. Every so often, these celebrants hurl their chains and switches towards children. This is along with them swinging cowbells, which is to warn people that Krampus is coming.
In Scandinavian countries and other parts of Europe, Krampuskarten or "Krampus Cards" are given for Krampus Day.
Saying "Gruß vom Krampus" means "Greetings from the Krampus" in German.
The depiction of Krampus has evolved over time, since the 1800's. Older versions of Krampus cards depict this goat demon as more evil and frightening. In more modern times, he is depicted as more child friendly, if not a womanizer.
If you would like to learn more about Krampus, feel free to check out my previous blogs about him.

Song Saturday: Krampus + More About Saint Nick's Evil Sidekick (2014)
Song Saturday: Midnight Syndicate's Night Of The Krampus (2015)
To celerate the holiday, here is footage of the Krampuslauf in Schladming, Styria from last month's Krampus Parade.
Krampuslauf ["Krampus Run"] In Schladming, Styria, Austria (2016)
Thank you my gumdrops! Don't forget to like, subscribe, share, +1 on Google Plus, and leave your feedback in the comments section below!

How's it going my gumdrops? How did you enjoy your Thanksgiving? My Thanksgiving wasn't horrible. However, my mother and I DID manage to dodge a really nasty car accident, last Wednesday.
Hopefully, everyone's Thanksgiving Day went well with family and friends. Now that Thanksgiving is over, we must prepare for Krampus Day, Saint Nicholas Day, Winter Solstice, Hanukkah, and Christmas Day.
I am sure that some of you will be celebrating this "festive" season with Christmas films whether they are the stereotypical Lonely Romance Comedies, or something creepy like Christmas Slashers. You may even want to go the Horror Comedy route with Gremlins, for example.
After all, Gremlins is technically a Christmas Horror Comedy film. The original movie takes place, during the time of Christmas. To all my newbie gumdrops, I published a blog on Blogster 3 years ago about the Gremlins audio books. Then, I updated and republished that same blog on It's Not All Gumdrops & Unicorns.
In addition to my blog about the Gremlins audio books, I published another blog last June about the disturbing dream I had about killing Gremlins. Then, I briefly explained about mogwai in Chinese folklores.
To delve into more detail about these fugly monsters, the term "mo" derives from the Sanskrit "Mara," meaning "evil beings," which shares a cognate with the Persian "Magi" from which the English word "magic" derives. This is according to tribe.net.
Mara in BOTH Buddhism and Hinduism determines the fates of death and desire, that tether people to an unending cycle of reincarnation and suffering. He is the source of wickedness and purposely leads people to sin, misdeeds, and self-destruction. "Gui," on the other hand, does not necessarily mean "evil" or "demonic spirits."
Gui simply means "deceased spirits" or "souls of the dead."
In modern Chinese, gui has evolved into normally referring to the spirits or ghosts of unrelated family members seeking their revenge on mortals, who have caused them anguish, when they were still alive. It is common for mortals to rectify their sins by sacrificing money to gui by burning (usually fake) paper banknotes so that gui can have funds to use in their afterlife.
Also, Tribe.net states that the modern popular use of mogui as "demonic" and gui as "devils" are somewhat outcomes of Western influences.
Satan in The Book of Job is translated as "diabolos" in Greek and "mogui" in the Chinese Biblical texts.
Therefore, Satan is "Mogui" in Chinese. Whenever you have the chance to rewatch Gremlins, you will have a slightly better understanding about mogwai in Chinese folklores.
As I briefly explained in my Killing Gremlins blog (which you can click on and read below), the water or rain to be more exact, is for reproduction during the mating seasons.
Mogwai in Gremlins are depicted as asexual creatures with the ability to morph into dangerous monsters. The scientists in Gremlins 2: The New Batch believed, that Gremlins are either mischievous and mean-spirited reptiles, or simply viruses.
You learn something new everyday!
Because Gremlins is a Christmas Horror Comedy film and since today's blog is about mogwai in Chinese folklores, let's revisit the Gremlins audio books and my dream about killing them for another Throwback Thursday.

Thank you my gumdrops! Don't forget to like, subscribe, share, +1 on Google Plus, and leave your feedback in the comments section below!

How's it going my gumdrops? Just some quick reminders, many of us site owners are STILL coping with glitches on our websites. On Sunday night, a subscriber informed me about the problems she had trying to comment on 1 of my blogs. The page kept "timing out." I assumed it was only me having this issue because I use Mozilla as my browser and because my primary laptop is 6 years old.
If you are seeing a message saying, that the page has "timed out," try clicking on the "Back" button at the top of your browser. It should redirect you to the previous page your were already typing on. Once you have been redirected to that page, click on "Post Comment." Then, your message should send.
During the early morning on Monday, I spent extra time working on the layout for my Blogger. Considering that Webs constantly has "technical difficulties" and site owners are becoming more irate with the company's lousy service, it is only a matter of time until I get fed up with their ridiculousness. Had I known 3 years ago what I know now, I would've tried building It's Not All Gumdrops & Unicorns on Blogger much sooner.
You may be asking, "So, why don't you do it right now?"
I really love the fact, that I can customize the background for free and I take pride in knowing, that I learned how to build my very own website with ZERO Graphic Arts & Design or Computer expertise. That is mostly why I continue to use Webs.
You have no idea how many hours I spend trying to make this site look as creative, unique, and professional as possible.
If you want to build your own website, you better be serious about it and committed to building it.
Aside from technical difficulties, these last 3 months have gone by really fast. It was JUST September. Now, it is the middle of November. There has been so much chaos throughout 2016, that it has been EXTREMELY difficult for many of us to enjoy this year.
At the beginning of 2016, I already predicted that it would be a shitty year and I was right. On the positive side, the 2016 election is finally over for the most part. Now, we can all try going back to our regularly scheduled lives.
The 2016 election really should've ended much sooner. Smarmy politicians, news rag networks, social media sites, and politrolls caused MAJOR divisions among families, friends, couples, employees, co-workers, companies, etc, etc.
The fact that more people have stopped interacting with each other because of their incessant finger wagging and politrolling others ad nauseam on social media sites and forums, exemplifies how caustic this election has been.
The taunting and temper tantrums from Republicans and mostly Democrats on my end forced me to unfollow them because they cause too many problems for the rest of us, who want ZERO involvement in their pissing contests. Then again, a hefty portion of those opportunists don't support me or my content in general, so it is what it is.
Even though I try being as apolitical as possible in both real life and cyber space, I could NOT resist the urge to share this video with you all. Halloween may be over, but everyday is Halloween for Goths, Horror fans, and for those who simply LOVE Halloween.
While watching my local ABC news last month, there was a reported segment about this couple's Halloween spirit. Jamie Beauchamp and Andy Reid from Bay View, WI are well-known for their Halloween House in their neighborhood. This couple enjoys scaring for a cause.
Jamie and Andy set up their Halloween House, in order to draw an audience and to donate money to Pathfinders. Pathfinders is a Milwaukee organization, which helps troubled children and teenagers.
Last year, Jamie and Andy were able to raise $6,000 with their Wizard Of Oz display, which is shown in the picture above. This year, they felt the need to capitialize off this God-awful election. I found a lot of dark humor in their display, last month. I laughed so hard at this news segment, that I almost cried.

Bay View, WI Halloween House (2016)
This is like horrifying political satire. Too bad I don't live in Jamie and Andy's part of town. I would've visited for the laughs. It is refreshing to know this couple and others were able to have a laugh at this horrendous election.
Hopefully, more people found the dark humor in this Halloween display and were able to donate more money to Pathfinders, last month.
What are your thoughts about Jamie Beauchamp and Andy Reid's Halloween House?

Thank you my gumdrops! Don't forget to like, subscribe, share, +1 on Google Plus, and leave your feedback in the comments section below!

How's it going my gumdrops? Last week, I sent out notifications that I would be taking a small break, after updating past blogs for Halloween. I meant to transfer, update, and republish this blog from Horror-Punks to It's Not All Gumdrops & Unicorns, last month.
Because I was already updating other blogs on here for Halloween, this particular blog was delayed. Rereading it gave me a little déjà vécu. As a Throwback Thursday blog, here is a 2-year-old blog about a disturbing dream I had. It holds a lot of significance, especially with more recent events, which have been personally happening with me.

This blog was originally published on March 14, 2014 at Horror-Punks.com.
How's it going Horror-Punkers and my lurkers? On Wednesday, I briefly mentioned on stalkbook, that I had this crazy dream. I dreamt that I was back at my 2nd college, UW-Parkside.
In the dream, a vampire apocalypse and some incredibly bizarre, alternate universe simultaneously existed. Everyone had doppelgangers, including me. This alternate universe somewhat resembled that old Buffy: The Vampire Slayer episode, "Doppelgangland."
If you have ever watched "Doppelgangland," you will understand what I am about to discuss. If you have never watched "Doppelgangland," it's from Season 3: Episode 16. It was a continuation of Season 3: Episode 9's "The Wish."
It has been years, since I have watched Buffy: The Vampire Slayer. If memory serves me right, "The Wish" episode was right after Cordelia caught Xander cheating on her with Willow.
After Cordelia and Xander had both split up, she met Anyanka a.k.a. "Anya," who was a vengeance demon (she later became Xander's fiancee). Anyanka granted wishes to scorned women, typically. Cordelia wished that Buffy never attended Sunnydale High School and her wish triggered an alternate universe.
In the alternate universe, the Master rose from the dead. Then, vampires started to over populate and dominate Sunnydale. Gradually, Giles discovered a way to reverse Cordelia's wish by destroying Anya's necklace. Anya's destroyed necklace resulted in her losing her vengeance demon powers.
Eventually, Anyanka re-appeared in "Doppelgangland." Anya tricked Willow into assisting her in a failed attempt to recover her necklace and tried regaining her vengeance demon powers through magic spells.
Their failed attempt at the spell transported Willow's vampire doppelganger to Sunnydale, where they both met each other.
Returning to Wednesday's dream, there was a vampire apocalypse and we all had our own doppelgangers at UW-Parkside. When I saw my doppelganger, I RAN like hell. In fact, there was a major stampede.
Everyone on campus ran from their doppelgangers. Some of us instantly climbed the campus walls and buildings. People would've assumed a school shooting happened on campus (we actually did have a campus shoot-out on Thanksgiving Break 2002). I don't know whether to consider this disturbing dream to be a so-called "day terror," bad omen, OR just a fucked up dream.
On Wednesday evening, I went onto dreammoods.com and read its dream analyses. I searched the words "apocalypse," "doppelganger," "alternate universe," and vampires. According to the dream analyses, here's what they said:
Apocalypse- "To dream of the apocalypse signifies an emotional and dramatic change taken place within yourself. The dream may also indicate the end of one kind of lifestyle and the beginning of another."
Doppelganger- "To see your own doppelganger in your dream is a reflection of your negative actions. The dream is showing you the consequences of your actions and what you should not do.
Alternatively, the dream signifies bad luck, danger, and/or illness.
To dream that you are fighting with your doppelganger means that you are struggling between good and evil and right and wrong. If you kill your own doppelganger, then it indicates that you have successfully repressed certain negative emotions from surfacing."

Universe- "To see the universe in your dream signifies the endless possibilities. You need to look at the overall big picture. Alternatively, the dream brings to your attention that we are all interconnected in some way."
Vampires- "To see a vampire in your dream symbolizes seduction and sensuality, as well as fear and death. The vampire represents contrasting images of civilized nobility and aggression/ferocity.
It may depict someone in your waking life whose charm may ultimately prove harmful.
Deep down inside, you know that this person is bad for you, yet you are still drawn to her or him. Vampires also sometimes relate to decisions about sex and losing your virginity.
Alternatively, to see a vampire suggests that you are feeling physically or emotionally drained. The vampire may also be symbolic of someone who is addicted to drugs or someone in an obsessive relationship.
To dream that you are a vampire signifies that you are sucking in the life energy of others for your own selfish benefit."
You might be asking, "How do these apply to you?" I'm no dream analysis expert, but I'll take a stab in the dark.
When it comes to the apocalypse, I have been upset with quite a few people lately in real life. Some refuse to acknowledge, that their friends are complete assholes. They will defend their asshole friends, if not justify WHY their friends are total assholes, until they are blue in the face.
I do NOT expect for our mutual friends to choose me over their other friends.
However, I refuse to attend ANY AND ALL social events, which require us to be in each others physical presence. Therefore, I have decided to distance myself from certain friends, especially flaky, cheap talking friends.
As for doppelgangers, I keep pondering about my own. Reading this part about my supposed doppelganger being a "bad omen" made me worry about my health. I was expecting something bad to physically happen to me. Instead, on Thursday morning around 3 am-ish, my mother had another mild seizure.
I suppose my doppelganger signified some sort of payback for something. I am unsure of what the payback was for but regardless, my mother had a seizure. I have noticed over these last several years, that every time she has a seizure, it is usually before her birthday.
My mother was born in late April. You are welcome to do the math on my doppelganger's significance.
I have no clear idea what the alternate universe represents. Maybe this is saying everyone has a good and evil side to themselves. Otherwise, it could possibly be saying, that everyone has a doppelganger somewhere in an alternate universe. Anything is possible.
Last but surely not the least are vampires. Lately, I have been feeling physically and emotionally drained. This is the main reason why I have been struggling to write my latest short story, "All Of Chastity's Men."
I am somewhat basing this Semi-Fictional Story on scumbag exes and other people's friends from over the years. This includes wanting revenge for being screwed over within these last 3 years. I think it is safe to say, that "All Of Chastity's Men" has a "woman scorned" theme to it with Horror elements.
Meanwhile, I have had obsessive feelings over someone for years. He is like a drug addiction, that I cannot seem to permanently break. Speaking of drug addiction, I have been told by some of his friends, that he is a drug addict. I'm uncertain how much is the truth and how much are complete lies.
A lot of lying, backstabbing, manipulating, and opportunism are involved regarding HIS so-called "friends."

He always has a tendency to stay friends with jealous people. They resent the fact, that I ever had feelings for him rather than for THEM. His friends lied to me in the past with their OWN hidden agendas.
How do I know whether or not they are telling me the truth about him and/about each other? Based on all this information, what do you think?
Thank you my gumdrops! Don't forget to like, subscribe, share, +1 on Google Plus, and leave your feedback in the comments section below!

How's it going my gumdrops? HAPPY HALLOWEEN!!! After browsing and reading, you CANNOT say It's Not All Gumdrops & Unicorns lacks variety. I have spent these last 3 years making sure there is a little something for every adult to enjoy.
Last Thursday, I shared more blog updates. This morning I just finished publishing the last Halloween and Horror-themed blogs, for this month. Tomorrow will be November 1st! Either way, you have this entire week to read through my older blogs.
If you want to catch up on the latest from 2016, all you have to do is click on this blog listing. Anyway, watch, listen, read, and enjoy your Halloween!

Song Saturday: Type O Negative (2014)

Song Saturday: Type O Negative On Halloween (2015)

Song Saturday: Horrorcore's Pioneers (2014)

Song Saturday: Tales From The Hood (2015)

Cartoon Sunday: Horror Anime Reviews (2014)

Cartoon Sunday: Foamy The Squirrel Halloween Block (2014)
Ari Lehman: The Original Jason Vorhees (2014)

Thank you my gumdrops! Don't forget to like, subscribe, share, +1 on Google Plus, and leave your feedback in the comments section below!