| | |
| --- | --- |
| Posted by Anna H. on February 1, 2017 at 5:20 AM | |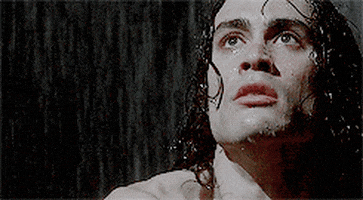 How's it going my gumdrops? Remember when I said, that I wouldn't be gothing it up hardcore as much this week? Well, I couldn't help it, especially not today.
The last 2 days, I have been updating more blogs that I published, throughout the years. In fact, I JUST updated a past blog, that I published about Bauhaus' Peter Murphy. Then, I linked that same blog into my most recent Cartoon Sunday blog.
Suddenly, I remembered that today is the day Brandon Lee would've turned 52 years old. I believe that he would've been a sexy, 52-year-old man had he STILL been alive today. Brandon probably would've also been getting more acting gigs.
Yes, I know. It sounds like I'm fangirling over a dead sexy (pun intended) actor more than 2 decades later. Honestly, I can't help it. Men with long, dark hair, especially if they happen to be musicians and/Goth have always been hard to get out my system.
Even though I retired from dating 10 years ago, dark hair, musicians, and Goths will ALWAYS be my types.
Aside from me having a certain type(s) of men, you already know that there are over 400 published blogs and counting on It's Not All Gumdrops & Unicorns.
Since it is the late Brandon Lee's 52nd birthday and because there are so many other people, who have never read my previous blogs about him, I thought I would share and re-share them with everyone for today.
All you have to do is click on this link and you will be directed to several links about the late Brandon Lee.
Thank you my gumdrops! Don't forget to like, subscribe, share, +1 on Google Plus, and leave your feedback in the comments section below!

Categories: About Me/My Writing/MORE