| | |
| --- | --- |
| Posted by Anna H. on November 3, 2013 at 1:20 AM | |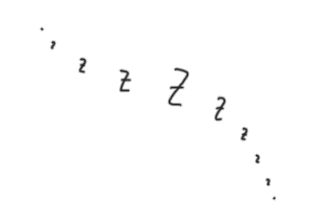 How's it going my gumdrops? I really do appreciate those of you, who have read and joined this website. This week, I have been really busy. That's why I haven't had the time and energy to publish more blogs on It's Not All Gumdrops And Unicorns.
On Halloween, most of the day was spent shopping with my mother and grandmother. I bought more of what I needed and wanted, along with what my family needed and wanted. I decided to buy my prescription for my glasses at Sam's Club.
Compared to what I would've spent at Wisconsin Vision, I saved $40 at Sam's Club. In addition, I bought my grandmother her birthday presents early. A sterling silver and crystal necklace with matching earrings. She saw them and I bought them for her.
Aside from shopping , have you ever written in your sleep like yours truly?
Some of you might view it as bizarre, and some might consider it to be an unusual talent of some sort. A few weeks ago, I was sleep writing.
It was not until becoming a teenager, that I started sleep writing. I remember those days of being in classes and at home taking notes, while sleeping. 
Sometimes people would have to wake me up because I dosed off, in the middle of taking notes. The funny part about me sleep writing in high school and college was that I could hear some of what was being said, during class lectures and discussions.
Because some of my teachers and professors did not want students sleeping during class lectures, they purposely stood where I sat, as a form of NEGATIVE attention. Basically, they were trying to single me out for sleeping, during class lectures.

Even though I was partially awake, they had no idea that some of what they said during class I retained. Sometimes I wake up and see my handwriting turned into doctor's chicken scratch.
Lately, I haven't done any sleep writing, while hand writing my own stories.
Eventually, I will return to hand writing a short story, that I was in the middle of writing, earlier this year. I have just been so busy helping my uncle with his own company and other activities, that more time has not been devoted to continue writing my next short story.
Last year, I hand wrote 3-4 short stories, that I want added to my chapbook. If I can ever set aside enough money, I want to have my stories revised, expanded, rebound, and self-published. I need to return to hand writing my short story from earlier this year and keep my fingers crossed for getting self-published in the near future.
With all that has been said, what are your thoughts about sleep writing? Let me know what you think!

Categories: About Me/My Writing/MORE