| | |
| --- | --- |
| Posted by Anna H. on March 17, 2014 at 1:10 AM | |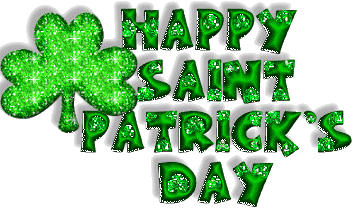 How's it going my gumdrops? Today is Saint Patrick's Day. Most people, who know me, don't know that I have Irish blood. I've had ignorant people over the years accuse me of lying about being part Irish. It is mostly because I have a Caramel skin complexion as opposed to white.
Apparently, they assume that all Irish (if not everyone with European blood) is pale in complexion. Talk about some dumb ass Americans! No wonder why our educational system in America is so low compared to other countries. 
Here's an interesting tidbit about yours truly: The Irish engineer, Casey Jones, is an ancestor of mine.
In fact, when my great-grandmother was still alive, she despised Casey Jones. It was mostly because she heard stories about him throwing Peppermint Candy to children on the Indian Reservation as a child.
Throughout that woman's life, she HATED Peppermint Candy. Meanwhile, I LOVE Peppermint Candy and anything containing mint in general. It cures my nausea.
Whenever I feel nauseated, I always try eating or drinking something with Peppermint or Spearmint in it. This Saint Patrick's Day entry is not necessarily intended to explain more about me. If the above does give you more insight about me, then I'm glad it helps you.
Because it is Saint Patrick's Day, I know there will be some zombies roaming around drunk, if not drugged up because of the holiday. Some already had an early start to celebrating Saint Patrick's Day, 2 days ago.
As we already know, the holiday fell on a weekday this year compared to a weekend. Some Irish Americans really hate the way most meatheaded zombies celebrate Saint Patrick's Day. The zombies use it as an excuse to get shit faced. There is an actual purpose for Saint Patrick's Day, that most of us didn't know.
Instead of me posting a long blog about the holiday, I'm sharing an informative video by YouTube vlogger, MrBettsClass. He informs us about Saint Patrick's Day's original purpose and about Saint Patrick.
Mr. Betts: A Beginners Guide To St. Patrick's Day (2013)

HAPPY SAINT PATRICK'S DAY!!!

Categories: About Me/My Writing/MORE