| | |
| --- | --- |
| Posted by Anna H. on May 3, 2014 at 1:15 AM | |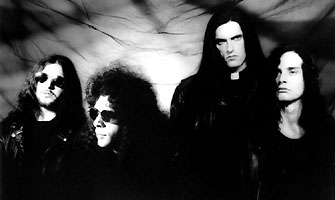 How's it going my gumdrops? I meant to post Type O Negative last month, but I chose some other bands. Type O Negative's Peter Steele has been dead for the last 4 years. He died on April 14, 2010 at the age of 48 from heart failure. Wow! Peter Steele was old enough to be my father, when I really think about it. He was 20 years older than me just like my mother. In fact, my mother turned 52 last Saturday.

I wonder how my old radio station manager at 101.7 WIPZ took Peter Steele's death. He was a huge Type O Negative fan. I'm sure he was really devastated over the news. I remember when I started hosting my show at UW-Parkside in October 2002. I was in the middle of listening to albums, while making my show's playlist.
As soon as my station manager heard me listening to some Type O Negative, he was overjoyed. That's how much he loved them. While being a "'tween" and teen during the '90s, I always listened to a few mainstream Type O Negative songs.
It wasn't until I transferred to UW-Parkside and started hosting All Things
Frightening

, that I began listening to more Type O. Once, my manager said to me, "I'm gonna make you love Type O Negative." Honestly, I think he had a man crush on Peter Steele.
I couldn't always play certain songs from the band. Some songs contained "explicit lyrics." As long as I censored songs live, I could air them. However, I already had enough songs to censor on All Things
Frightening

.
Normally, I ended the show with Type O Negative's "Love You To Death," from their October Rust album. That was if I did not already play a song from them or another band. "Love You To Death" is such a dark yet calming song.
When I became a DJ/Radio Hostess,
All Things
Frightening aired on
F

ridays 4-6pm. Sometimes I hosted my show on Thirsty Thursdays, during DJ Madness. DJ Madness aired, during the "Safe Harbor" timeslot. Safe Harbor started at 10pm, which meant we could play uncensored songs on our shows.
Anyway, I have a lot of favorite songs off Type O Negative's October Rust. Not only is "Love You To Death" a favorite, but also "Die With Me" and "In Praise Of Bacchus" to name at least 2 more songs. October Rust is a great album to listen to, if you ever want to relax.
Months after I began working at UW-Parkside's 101.7 WIPZ, I happened to see Peter Steele on
Fuse TV's Uranium. Uranium's Juliya C. interviewed Peter Steele in an episode, during the show's 1/2 hour block in 2003.
Type O Negative's Peter Steele Interviewed By Uranium's Juliya C. (2003)

This Song Saturday, I have a triple dose of my favorite Type O Negative songs off their 1996 album, October Rust.
3) Type O Negative "In Praise Of Bacchus" October Rust (1996)

RIP PETER STEELE!!!
Categories: Song Saturday