| | |
| --- | --- |
| Posted by Anna H. on June 7, 2014 at 1:20 AM | |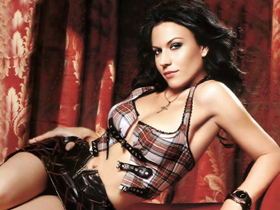 How's it going my gumdrops? Last October, I published a Lacuna Coil blog for Song Saturday.

Song Saturday: Lacuna Coil (2013)

While helping my uncle with his on/off again company last year, I listened to Lacuna Coil's Dark Adrenaline album. As much as I love the band, their earlier albums from 1999 to 2002 were and still are the best.
Lacuna Coil's 2002 album, Comalies became mainstream 1 year later. I loved that album. I listened to Lacuna Coil's earlier albums such as In a Reverie (1999) and Unleashed Memories (2001), during my years in college because of Comalies.
Before, during, and after I graduated from college in 2006, Lacuna Coil's single, "Our Truth" was featured on the Underworld: Evolution Soundtrack. "Our Truth" was also featured on the band's 2006 album, Karmacode. It's a decent song, along with their song, "Within Me." However, I don't care for Karmacode and the rest of Lacuna Coil's more recent albums.
I hate saying that Lacuna Coil "sold out," but in a way they did sell out. Their more recent albums sound nothing like their earlier albums. Then again, Ozzfest is somewhat "The Kiss Of Death" for most Metal and Hard Rock bands.
It's great that Ozzfest helped give obscure bands more exposure. At the same time, their music completely changes after they reach their pinnacles.
After those bands change their sound, they begin to lose their integrity because they try pleasing the wrong audience. I understand that bands must evolve in sound over the years, but if it's not broken, why fix it?
Take KoRn for example. Their music was enjoyable, until they reached their pinnacle in 1999. Then, KoRn became a Shit Sandwich. Even though I still like 3/5 the original band members, I haven't bought a KoRn album, since I was a teenager in the late '90s. Their music has become unrecognizable.
The same applies to some of the original band members' personalities (*cough-cough* "Head's" for example). Talk about being pretentious and self-righteous, since he has now found Jesus. (Excuse me, I have to scratch my eyeballs by rolling them, while sneezing because I'm allergic to Head's bullshit.)

At least I can't say this for Lacuna Coil's Cristina Scabbia and Andrea Ferro (I'm really more of a Cristina Scabbia fan). I still like them as people even though I do miss the band's earliest sound.
Anyway, this Song Saturday, I have a LENGTHY block of Lacuna Coil's songs between 1999 and 2002. These songs are from their albums In a Reverie, Unleashed Memories, and the album that made them mainstream, Comalies.
Before listening to the block, here's an interview Cristina Scabbia did with Mike DiQuinzio of JAM Magazine.

Mike DiQuinzio Interviews Lacuna Coil's Cristina Scabbia [NEW] (2014)
1) Lacuna Coil "My Wings" In a Reverie (1999)
2) Lacuna Coil "To Myself I Turned" In a Reverie (1999)
3) Lacuna Coil "To Live Is To Hide" Unleashed Memories (2001)
4) Lacuna Coil "Senzafine" Unleashed Memories (2001)
5) Lacuna Coil "Cold Heritage" Unleashed Memories (2001)
6) Lacuna Coil "Lost Lullaby" Unleashed Memories (2001)
7) Lacuna Coil "Aeon"/"Tight Rope" Comalies (2002)
8] Lacuna Coil "Entwined" Comalies (2002)
9) Lacuna Coil "Comalies" Comalies (2002)
Leave your feedback in the comments section below!

Categories: Song Saturday