| | |
| --- | --- |
| Posted by Anna H. on September 27, 2014 at 1:10 AM | |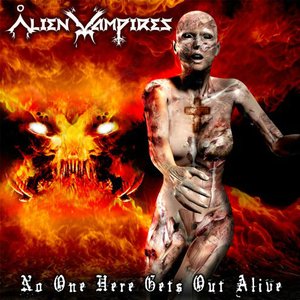 How's it going my gumdrops? Since Tuesday, I've been cyber partying on Blogster and Adult Swim. I continue to celebrate the 1-year anniversary of It's Not All Gumdrops & Unicorns. I believe everybody needs these cyber parties more than myself. There has been a lot of fighting on both sites.
On the positive side, we have been enjoying ourselves. I know I have been having a better time compared to last weekend. I hope all my friends and subscribers from Xanga, Blogster, and Horror-Punks.com were pleased with my answers to their questions.
Meanwhile, I have Alien Vampires for this Song Saturday.
Alien Vampires is an Industrial/EBM band from England and Italy, that formed in the year of 2000. Aborym's Nysrok Infernalien and Nightstalker wanted to blend the sub-genres, Psy Trance, Industrial, EBM, and Metal.
That's basically Alien Vampires' sound, in a nutshell. The band has recorded 1/2 dozen albums and collaborated with various acts such as Depeche Mode, Suicide Commando, In Slaughter Natives, and Noisuf-X. This is only naming a few.
Several years ago, I was introduced to Alien Vampires' music through the compilation, Industrial Megamix Volume I. If you've never listened to Industrial Megamix Volumes I and II, I suggest listening to them. Listening to those compilations helped expose me to more Industrial-Electro from this recent decade.
It sucks that Industrial-Electro is no longer popular in America. Most younger people have no exposure to it compared to us 30 and 40-somethings.
In the '90s, Industrial and Electronica were more mainstream. Now, both sub-genres are barely acknowledged in America compared to Europe.
It appears that more European countries (mostly Germany and German-speaking countries) are filled with Industrial-Electro. Almost every time I hear an Industrial-Electro song, it is in German.
Why does this particular sub-genre appeal more to the audiences in European countries compared to the American audience?
The more I think about it, the more I realize, that today's American Top 40 Pop and R&B singers have RUINED Electronica.
2 decades ago, Pop and R&B singers didn't use Electronica or Dubstep to sell records. They also didn't use auto-tune, in order to sell their albums. Well, at least not to my recollection. Electronica in America sounded much better, during the '90s compared to today's Dubstep.
I miss the days of listening to The Prodigy, Fluke, Keoki, The Crystal Method, Daft Punk, KMFDM, Lords Of Acid, My Life With The Thrill Kill Kult, Nine Inch Nails, Stabbing Westward, and Gravity Kills, for example.
Sure, some of these Electronica and Industrial Metal groups, that I mentioned are not American. However, at least they were aired on traditional radio stations.
Daft Punk still gets some airplay. Although, it's only because of Pharrell Williams and the latest "trending artist," who happens to collaborate with them. Otherwise, Daft Punk would be discarded.

Well, that's enough ranting for now. Since I am juggling cyber parties, I will leave you with a double dose of Alien Vampires. Here are their songs, "Hell S.D." and "Humans = Cunts." (That last title reminds me of Slipknot's "People = Shit").

1) Alien Vampires "Hell S.D." No One Here Gets Out Alive (2007)
2) Alien Vampires "Humans = Cunts" No One Here Gets Out Alive (2007)
Let me know what you think!

Categories: Song Saturday