| | |
| --- | --- |
| Posted by Anna H. on October 11, 2014 at 1:10 AM | |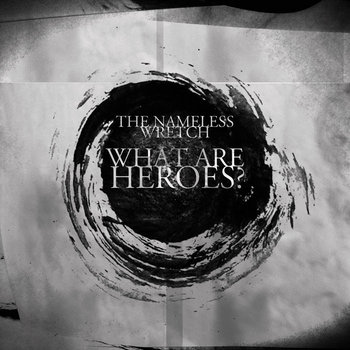 How's it going my gumdrops? Last weekend, I said I planned on posting some darker content for Halloween Season. Today, I have some music from 1 of my friends. He belongs to the Horror-Punks Community.
My friend, Charlie JJ Kruger is a Film/Music/Art Critic at Horror-Punks.com. He's also an author and a musician with a band called, The Nameless Wretch. Earlier this week, I had a brief conversation with Kruger about his band on Horror-Punks.
The Nameless Wretch is a Post-Punk/Hardcore/Drone/Shoegaze band from Olympia, Washington. Fugazi, Samhain, David Bowie, Brian Eno, and The Deftones are some of the band's musical influences.
The Nameless Wretch has a full length, 13-track album titled, What Are Heroes? 3 of the 13 songs on What Are Heroes? have been featured in movies. That's along with being aired on radio stations and podcasts.
When I asked Charlie JJ Kruger to go into more detail about The Nameless Wretch, he mostly wanted to know my views about their music rather than him always having to regurgitate his own. Kruger's last response to me was:
"My feelings are in the music. My opinions and the things I think are important are all layered in there. So, once the song is out, I have kinda said all I have to say about it."
As soon as I listened to "Puzzlecutter" and "Living Water," I was automatically given really dark and creepy images. Both of the songs sound as if they belong on a Horror soundtrack. At the moment, "Puzzlecutter" is my favorite single from The Nameless Wretch.
"Puzzlecutter" really sucks me in. I can feel the vibrations of the guitar riffs through my entire body, which is something I haven't said about any band's music in years.
I imagine Slasher Horror Movie characters having Fight-Or-Flight responses. They're screaming, while running through a really dark forest with "Puzzlecutter" playing in the background. Those same characters are searching for each other, after being separated.
Eventually, they reunite and try escaping a serial killer. He is chasing them with a chainsaw in his hands. Those same characters conveniently find a boat in a bloody lake/river and jump into it. "Living Water" plays in the background, while they row away from the serial killer.
As they continue rowing, another deranged character simultaneously reaches out his/her hand from the bloody lake/river. They all scream and the boat topples. "Living Water" continues to segue into the movie's credits.

I think I've watched too many Slashers. I have such a dark and disturbing imagination.
This could explain why some people think I'm so creepy, besides the sound of my laugh.

If you want to learn more about Charlie JJ Kruger and his band, The Nameless Wretch, you can visit his YouTube channel and his website in the links below.
http://www.youtube.com/channel/UCkYWZ5fzphaISXkspKRg8fw

http://charliejackjosephkruger.com/

Anyway, this Song Saturday, I have "Puzzlecutter" and "Living Water" by The Nameless Wretch.

1) The Nameless Wretch "Puzzlecutter" What Are Heroes? (2013)
2) The Nameless Wretch "Living Water" What Are Heroes? (2013)
Let me know what you think!

Categories: Song Saturday