| | |
| --- | --- |
| Posted by Anna H. on October 10, 2015 at 2:05 AM | |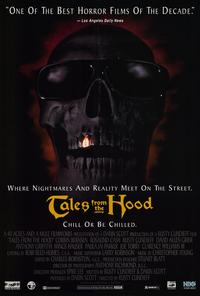 How's it going my gumdrops? On Thursday, I posted a blog in regards to what you should expect on It's Not All Gumdrops & Unicorns for October. Lately, I've been updating older Halloween and Horror themed blogs to re-share with you all.
After posting the last blog on Thursday morning, I updated the Horrorcore entry, that I posted on It's Not All Gumdrops & Unicorns last year, on Thursday night. If you have NOT already viewed that blog, the link is below.
Song Saturday: Horrorcore's Pioneers (2014)

In addition to last year's blog about the pioneers of Horrorcore Rappers, today's Song Saturday blog consists of Horrorcore Rappers featured on the Tales From The Hood Soundtrack. It has been 20 years, since the time of the movie's release. Tales From The Hood is the equivalent of Tales From The Crypt except it's about people in the ghetto.
The movie is in homage to the British Horror Anthologies from the 1960's and 1970's (Tales From The Crypt). Tales From The Hood is about 3 drug dealers from South Central LA, who are called to collect a stash of drugs from a funeral parlor.
The creepy funeral director Mr. Simms greets the 3 thugs and shares 4 "moralistic tales of terror" about recently killed people in his parlor. Each moralistic tale the funeral director shares with them, the more terrifying the tales become.

Tales From The Hood really wasn't a Horror movie. It's more of a Horror Comedy about drug dealers from the ghetto. Personally, I didn't have a problem with the movie and appreciated it for its ghetto twist on Horror.
When people really think about it, real life incidents are always a lot more appalling than what's shown in a Horror movie.
I believe that watching the Slasher Horror genre is scarier than the usual vampires, zombies, werewolves, etc. because serial killers actually exist in real life. Turn on your local news and you will hear about a sociopath or a serial killer being on the loose and in a town near you.
Aside from the movie Tales From The Hood, I have 2 songs from its soundtrack. Both songs are by Horrorcore Rappers. It's only fitting to have Horrorcore Rap on a Horror Comedy soundtrack about ghetto drug dealers. Don't you think?
If you ever have the chance and want to watch something a little different, you should watch Tales From The Hood. With that being said, here's another song by Gravediggaz and a song by N.G.N. featuring Killa for today's Song Saturday.

1) Gravediggaz "From The Dark Side" Tales From The Hood Soundtrack (1995)
2) N.G.N. [Featuring Killa] "The Grave" Tales From The Hood Soundtrack (1995)
Thank you my gumdrops! Don't forget to like, subscribe, +1 on Google Plus, and leave your feedback in the comments section below!

Categories: Song Saturday