| | |
| --- | --- |
| Posted by Anna H. on October 23, 2016 at 7:00 AM | |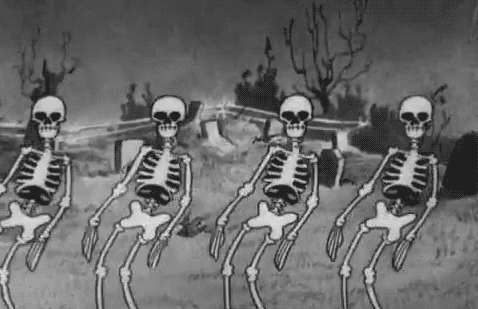 How's it going my gumdrops? Are you ready for Halloween? Halloween is everyday for Goths and Horror fans. We like putting in the extra amount of effort by showing our spooky pride, when it is the actual day. Some are trick-or-treating early in certain towns, this year.
The last time I went trick-or-treating was in October 1996. I was 14 at the time and I dressed as The Grim Reaper. Just to think, I published a blog showing the similarities between Shinigami and The Grim Reaper, 3 days ago. Don't you just love the timing of these blogs?
Hopefully, some of you enjoyed yesterday's Song Saturday blog. I automatically expected for certain groups of people to have serious problems with it because I addressed some highly controversial, uncomfortable, and sensitive issues. This is especially when it comes to Michael Jackson.
On a lighter note, you may recall last Cartoon Sunday, that I published a blog about Ub Iwerks' Skeleton Frolics. In that same blog, I compared Skeleton Frolics to The Skeleton Dance. In a way, I think I'm starting to like The Skeleton Dance from 1929 better than Skeleton Frolics from 1937.
When you take a look at the previous Cartoon Sunday blog, you will see that I posted pictures showing both of Ub Iwerks' animation from The Skeleton Dance and Skeleton Frolics. Skeleton Frolics has more of a cutesy and colorful appearance.
Meanwhile, The Skeleton Dance is a little more creepy-looking. I believe the abstractness in art gives The Skeleton Dance more of a creepy vibe.
Last night, I started thinking about cartoon specials for Halloween growing up in 1980's. The only special that comes to mind is It's The Great Pumpkin, Charlie Brown. Most specials were for Christmas. It seems like there were more cartoon specials for Halloween before and after I was born than when I was growing up. 
Considering how much fun I had growing up, during the 1980's and '90s, it is odd that there weren't nearly as many specials for Halloween as there are now. It may be due to the fact, that our country was more conservative, during the time I was born and growing up. Regardless, I feel somewhat cheated and a little disappointed, when it comes to Halloween Specials.

Maybe had ABC aired their old Disney shorts from decades ago for Halloween, more of us 20 and 30-somethings and possibly younger would've probably known about The Skeleton Dance and many other animated shorts.
I believe people from my generation did not have the oppportunity to see these shorts because the animation was creepy-looking. With sites like YouTube, we have a better chance of being exposed to these classic animated shorts and appreciating them now as adults. Anyway, here is Ub Iwerks' The Skeleton Dance for today's Cartoon Sunday.

Ub Iwerks' The Skeleton Dance (1929)
Am I the only 1, who thinks The Skeleton Dance is creepier than Skeleton Frolics? Let me know what you think.

Thank you my gumdrops! Don't forget to like, subscribe, share, +1 on Google Plus, and leave your feedback in the comments section below!

Categories: Cartoon Sunday