| | |
| --- | --- |
| Posted by Anna H. on December 3, 2016 at 8:25 AM | |
How's it going my gumdrops? The above picture is a photograph of Stone Temple Pilots and Velvet Revolver's Scott Weiland. In this exact picture, he is shown embracing his mother, Sharon Williams. It's really touching yet very sad all at the same time.
Here it is 1 year later. Honestly, I expected for Scott Weiland to have died 20 years ago. There was nonstop media coverage about him being in/out of rehab throughout the years. At the same time, it was still a tragic surprise to learn about Scott's death on social media, last year.
Stone Temple Pilots was a major part of my youth during the 1990's. Throughout my childhood, adolescence, and early adulthood, I listened to many different types of music genres, sub-genres, groups, and soloists.
As a music lover, I still have MOST of Stone Temple Pilots' albums; I have their first 4 albums to be more specific. Don't get me wrong, it's not like I didn't grieve over Kurt Cobain and Layne Staley's deaths.
When Kurt died, I was just going into middle school. When Layne Died, I was on my way to my 2nd and 3rd colleges followed by hosting my own radio show. Scott lived longer than Nirvana's Kurt Cobain and Alice In Chains' Layne Staley combined. Scott was almost 50 and died from a drug overdose, last December 3rd.
Early Wednesday morning, I took a quick peak at the official Stone Temple Pilots page on facebook. I was curious to know if STP had finally decided on another replacement singer. Once I clicked on the band's page, I saw a picture of Scott Weiland wearing a black suit and a red hat.
On STP's most recent facebook status (October 27, 2016), it says "Happy Birthday Scott. We miss you." Below his picture, a fan posted "The day I heard he passed away... part of my youth went with him. Happy Birthday Scott. RIP." I cannot help sharing this exact sentiment.
After learning, that Scott Weiland died last December 4th, a considerable amount of my youth died with him, too. I grew up listening to Stone Temple Pilots. I was in 4th and 5th grade, when the band started getting airplay. Normally, I would get a Stone Temple Pilots album for my birthday. That was if I did NOT already buy an album of theirs at 12-18 years old.
In fact, I remember when the band released their 2nd album, Purple close to my 12th birthday. June 7, 1994. Wow! It's like my life just flashed before my eyes. Damn, do I feel OLD. In 1994, that was when Stone Temple Pilots reached their pinnacle as a band.
Their music videos were in heavy rotation on MTV AND VH1. Speaking of both these networks, they act like Stone Temple Pilots NEVER existed, which is a slap in the face to us veteran fans.
Last night, MTV Classic aired Classic Albums: Nirvana – Nevermind. The network really should've aired Stone Temple Pilots and Velvet Revolver in tribute to Scott Weiland.
MTV Classic is a piss poor representation of what MTV was during the 1980's and '90s.
As much as I loved Nirvana and grieved over Kurt Cobain, during my youth, Nirvana was NOT the ONLY Grunge band to exist. I am still reeling over the fact, that MTV and the media in general continuously cast Scott Weiland's death to the side.
Most act like Stone Temple Pilots never existed. When the media is NOT blacklisting Scott Weiland and STP as a whole, they will demonize Scott as if he was the only entertainer in history to EVER be a drug addict and alcoholic.
Loudwire: Filter's Richard Patrick Discusses Scott Weiland's Death (2016)
Oh, I just love how much Richard Patrick from Filter has so much to say about Scott.

No disrespect to my fellow Nirvana fans, but I feel that Scott Weiland was a MUCH BETTER singer and songwriter than Kurt Cobain. STP's Scott Weiland and Alice In Chains' Layne Staley were both phenomenal lead singers for Grunge bands. Kurt Cobain continues to be a highly overrated dead frontman in regards to Grunge.
Stone Temple Pilots' Scott Weiland and Alice In Chains' Layne Staley both had vocals, that made Nirvana's Kurt Cobain sound off-key with his incoherent babbling. Even Dave Mustaine from Megadeth could see Scott's talent, in the beginning.

Loudwire: Megadeth's Dave Mustaine Recalls Advice He Gave Scott Weiland (2015)
Meanwhile, I remember having a Stone Temple Pilots poster during the '90s and 2000. I managed to find an online picture of what my old poster looked like from my youth.

Vintage Stone Temple Pilots Poster Circa 1993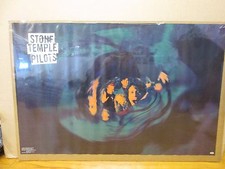 Too bad I had to throw it away. This exact poster ripped 16 years ago. I believe the main reason why I took Weiland's death harder than others is because I could really sympathize and empathize with him.
Scott was a talented entertainer, who suffered from rape in high school, was forced to mourn a baby that a significant other aborted years before STP's fame, the death of his brother, and other tragedies throughout his life.

Scott Weiland was a talented performer with severe substance abuse issues. Even though he was highly flawed, I can't help feeling his pain because I am an empath.
Since the time I was 12, I could actually feel his pain through the songs he wrote for Stone Temple Pilots. Now that Scott is dead, I feel his pain a lot more, whenever I listen to "Atlanta" and "Kitchenware & Candybars."
Because it is Song Saturday and the 1-year anniversary of Weiland's death, I wanted to share a few videos. Someone created their own video supposedly showing the 11 best moments and last performance by Scott Weiland.
Also, there are rare live performances he did with The Doors and Stone Temple Pilots. Before watching these videos, I want to share Sarah Michelle Gellar's condolences to Scott, his family, friends, fans, and bandmates.
Entertainment Tonight: Sarah Michelle Gellar Pays Tribute to Scott Weiland After His Death (2015)
Scott Weiland'S 11 Best Moments & Last Show (2015)
1) Stone Temple Pilots "Lounge Fly" Purple (1994); Live At Toronto (1993)
2) Stone Temple Pilots "Dancing Days" [Led Zeppelin Cover] Encomium: A Tribute to Led Zeppelin (1995); Las Vegas Secret Show (1999)
3) Stone Temple Pilots "Kitchenware & Candybars" Purple (1994); VH1 Storytellers (2000)
4) The Doors [Featuring Scott Weiland] "Break On Through" VH1 Storytellers (2000)
If you would like to learn more, here are links to other musicians sending their condolences and additional Song Saturday blogs about Scott Weiland.
Rockers React: Scott Weiland Dead at 48 (2015)

Song Saturday: Scott Weiland VS. Chester Bennington? You Decide! (2014)

Song Saturday: A Little Scott Weiland Tribute On Krampus Day (2015)

Song Saturday: Scott Weiland Christmas Block (2015)
Song Saturday: MTV VMA Flashback With Stone Temple Pilots (2016)

RIP SCOTT WEILAND!!! Thank you my gumdrops! Don't forget to like, subscribe, share, +1 on Google Plus, and leave your feedback in the comments section below!

Categories: Song Saturday