| | |
| --- | --- |
| Posted by Anna H. on March 17, 2017 at 5:45 AM | |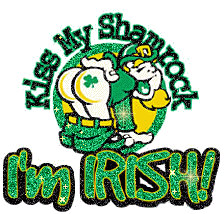 How's it going my gumdrops? Thank Grimm it's Friday and Happy Saint Patrick's Day! This weekend, there will be no Song Saturday or Cartoon Sunday blogs.
Considering that I have been updating and sharing past Irish and Saint Patrick's Day-themed blogs this week around social media (mostly on Google Plus), I need a little break.
Yesterday I realized that I have published about a dozen Saint Patrick's Day and Irish-themed blogs, throughout these last 4 years. In case you missed any of those blogs, their links are at the bottom.

Meanwhile earlier this week, we began with Bill Tytla's animated short, The Wee Men for Cartoon Sunday. Tytla's The Wee Men somewhat explained about leprechauns and their roles in Ireland. We already established that leprechauns run and hide with their crocks of gold but do we REALLY know why? Before explaining any further about their antics, let's explore the origins of the word, "leprechaun."
According to Irelandseye, "leprechaun" may have derived from the Irish term, "leath bhrogan." Leath bhrogan means "shoe maker," which was what we watched this past Cartoon Sunday in Bill Tytla's The Wee Men. The leprechauns in the short were shoe makers.
However, there is a possibility that "leprechaun" may have derived from "luacharma'n," which is Irish for pygmy.
Even though leprechauns are considered to be the national fairies of Ireland, those in the north Leinster area originally used the term "leprechaun." "Lurgadhan," "lurican," and "lurachmain," are 3 other variants of leprechaun.
Apparently, it is a common routine for these "wee men" to be found in an intoxicated state caused by home-brew poteen yet they still manage to be productive workers.
So, why do leprechauns run and hide with their crocks of gold?
Roaming and pillaging throughout Ireland, the Danes supposedly left behind ancient treasure. This led to the leprechauns appointing themselves as the guardians of the gold. This could also be a reason why leprechauns avoid any social interaction with humans.
Leprechauns view humans as being "foolish," "flighty," and "greedy creatures."
Once a leprechaun is caught by a human, the leprechaun uses his gold coin as a bribe from 1 of his 2 leather pouches.
Most people don't know that leprechauns carry 2 different coins in separate pouches.
2 Coins That Leprechauns Carry:
1) Silver Shilling- Leprechauns carry this magical coin in 1 pouch, which returns to the purse every time it is paid out.

2) Gold Coin- Leprechauns carry this in a different pouch from the silver shilling. It's used as a bribe for anything they feel is a "difficult situtaion," after being caught by humans. The coin also has the ability to turn into leaves or ashes after it is given away.
In addition to having 2 different pouches for 2 different coins, there are 2 distinct classifications of the so-called leprechaun family. There are the leprechauns, that hide and protect the gold and there are the cluricans, which have the tendency to borrow or steal almost anything.
Cluricans wait until it is dark to raid wine cellars and larders in people's houses. This is along with harnessing sheep, goats, dogs, and domestic fowl. Then, cluricans will ride them throughout the country at night.
After conducting research about leprechauns, I find this all to be very fascinating. It's amazing what you can learn, especially online.
As said earlier, if there are any previously published blogs you may have missed about Saint Patrick's Day and the Irish in general within the last week to 4 years, here are 10 more blogs below.

What We Didn't Know About Saint Patrick's Day (2014)
Do Irish Horror Folktales Really Exist In Ireland?! (2016)

Song Saturday: Primordial's Hosting Of The Sidhe (2016)

Cartoon Sunday: The Foreigner's Guide To Irish Accents (2016)
What Are My Thoughts About The Real O'Neals (2016)
Song Saturday: The Irish Rovers' The Unicorn (2016)
Cartoon Sunday: Jeremiah Warren's The History Of Saint Patrick's Day (2016)
Song Saturday: VNV Nation's Darkangel (2017)
Cartoon Sunday: Bill Tytla's Leprechauns Gold (2017)
Song Saturday: Henry Cowell's The Banshee (2017)
Hopefully, you enjoyed today's blog.

Thank you my gumdrops! Don't forget to like, subscribe, share, +1 on Google Plus, and leave your feedback in the comments section below!

Categories: About Me/My Writing/MORE