| | |
| --- | --- |
| Posted by Anna H. on July 16, 2017 at 10:30 PM | |
How's it going my gumdrops? It has been a while, since I last talked about, much less watched the Shonen Supernatural Acion Anime, Blue Exorcist. Nearly 2 years ago, I published a Cartoon Sunday blog, which consisted of the show's bloopers.

Cartoon Sunday: Blue Exorcist Bloopers (2015)
Early on, I noticed that Blue Exorcist looked somewhat similar to Vampire Knight.
Vampire Knight [2008]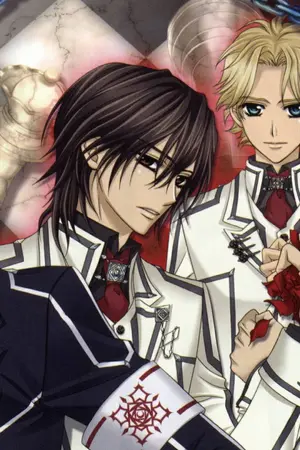 Blue Exorcist [2011]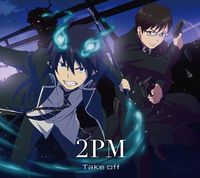 I spent HOURS last night and earlier this morning trying to find pictures showing the similarities between Vampire Knight and Blue Exorcist. The images above were the closest that I could find regarding the similarities in high school academy uniforms. Both Anime titles are Supernatural Action Anime.
Vampire Knight is a Shojo Anime meant for female viewers whereas Blue Exorcist is a Shonen Anime meant for male viewers. I have compiled a list showing the similarities and differences between Vampire Knight and Blue Exorcist, in order to give a better understanding of both shows,

Vampire Knight:
- Shojo Supernatural Action Romance Anime meant for female viewers, which heavily revolves around tragedy
- Somewhat considered Horror because it has some horror elements to it
- Cross Academy is named after the vampire hunter now turned headmaster, Kaein Cross
- Cross Academy is comprised of high school vampire students attending night classes
- Human students attend day classes

-Yuki Cross is the female protagonist, who was adopted by Cross Academy's headmmaster and later discovers that she is a Pureblood Vampire 
Blue Exorcist:
- Shonen Supernatural Action Dramedy Anime meant for male viewers, which has some tragedy
- True Cross Academy is a prestigious Exorcist Cram School, which is the Japanese branch of the True Cross Order
- True Cross Order is the main organization of Exorcists and a global exorcist institution that is controlled by the Vatican
- True Cross Order has roots to Christianity and was founded by Medieval Christian Knights
- Some Biblical scripture is used in this series
-Rin Okumura is the male protagonist with the ability to see demons

- Rin and his twin brother Yukio were adopted and raised by Father Shiro Fujimoto, who was an Exorcist
- Before Father Shiro Fujimoto sacrificed his own life to protect Rin from the demons of Gehenna, Rin discovers that he and Yukio are both Satan's bastard sons

Judging by the list of these Supernatural Action Anime, both use "Cross Academy" in their high school academy names, have protagonists discovering they were adopted because they are not fully human, and possess supernatural powers.
In addition to what has been listed about Vampire Knight and Blue Exorcist, I noticed that both series have male brunette characters wearing eye patches in high positions at both the Cross Academies.
It would've been so much better if I could've found a split screen image of Vampire Knight's Toga Yagari and Blue Exorcist's Igor Neuhaus. Both characters wear eye patches, have brown hair, and seem to have cold personalities.

If you have NEVER watched Vampire Knight or Blue Exorcist, I really encourage you to watch them both. You will see a lot of similarities between the 2.
It would be nice to see the 2nd season of Blue Exorcist and the entire Vampire Knight series air on Adult Swim or possibly on another network. We all know that Adult Swim will NEVER air Vampire Knight.
The men running Adult Swim not only show disrespect towards their OWN viewers in general, but also love discriminating against women. The assholes in charge of Adult Swim and the creeps, that posted on their official message board for over a dozen or so years, expect women to be inferior to them.
This is when Adult Swim is NOT pretending to promote "women's empowerment," in between showing female characters with very LITTLE self-respect chase after male characters, that continuously express their disinterest in them and cleavage shots.
Keep promoting that "women's empowerment," Adult Swim!

A few months ago, Blue Exorcist's 2nd season finished airing in Japan. I really hope Adult Swim or those running the Toonami block renew their license to re-air Blue Exorcist's 1st season, then air its 2nd season, Kyoto Saga.
There have been claims by Toonami fans, that Blue Exorcist's license expired for it to be re-aired on Adult Swim, and that the Shonen Supernatural Action Anime did badly in ratings. I don't know if that last part is true.
Some of us already know how much of zealots certain Toonami fans are, when it comes to the Nielsen Ratings. Shows will be "trending" on facebook, Twitter, and other social media sites YET there are some Toonami fans, that are still bitter.
There are Toonami fans still bitter about certain shows such as One Piece, for example, being replaced by Tokyo Ghoul or any show with horror in it.
Rather than being more open-minded, OR simply changing the channel to something else, they post threads around social media sites and forums to mock, discredit, and patronize other fans of certain shows, that threaten their interests, views, and don't fit their narrative.
Based on what I finally realized about Toonami fans, that were Adult Swim posters, they are VERY cynical. They have this mindset, that religion is for idiots. These are the same Toonami fans, that LOVE complaining about Tokyo Ghoul, claiming that it supposedly "justifies and glorifies cannibalism."
Since Blue Exorcist uses some excerpts from the Bible, has trained Exorcists, students training to become Exorcists, and the protagonist happens to be 1 of Satan's bastard sons, I believe certain viewers are or will be repulsed by this series.
The ilk of Toonami fans I have dealt with on Adult Swim's forum, before it was shut down are threatened by Christianity, Satanism, and other religions.
Religion "triggers" these particular fans. They CANNOT handle the sound of religion much like the rest of us cannot handle them throwing temper tantrums like 2-year-olds over a cartoon's low ratings.
I advise viewers to watch and enjoy a show for yourself, NOT because of a show's ratings. Much like polls can be rigged, ratings can also be rigged. Every household does NOT have a Nielsen's box.
The fact that there are men, women, and children allowing a show's ratings to control them is pathetic in itself. If you need to obsess over a show's ratings, you will NEVER enjoy ANY show.
Since TONIGHT'S Cartoon Sunday blog is mostly about Blue Exorcist, let's start from the very beginning. Below is the link to the English Dub for Blue Exorcist.

Blue Exorcist Season 1: Episode 1 (2011)
Thank you my gumdrops? Don't forget to like, subscribe, share, +1 on Google Plus, and leave your feedback in the comments section below!

Categories: Cartoon Sunday