| | |
| --- | --- |
| Posted by Anna H. on November 5, 2017 at 7:40 AM | |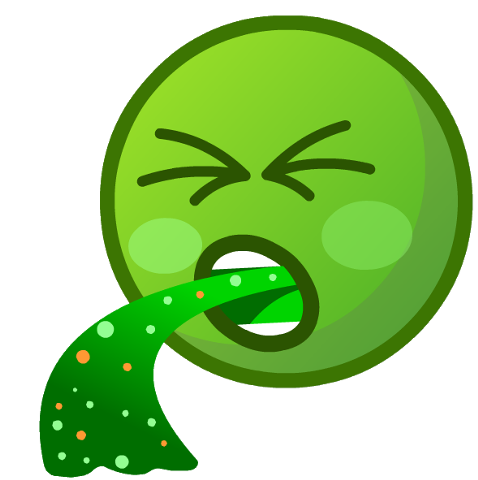 How's it going my gumdrops? Did you enjoy your Halloween? Hopefully your Halloween went much better than mine. Unfortunately, I did NOT have the opportunity to enjoy the holiday.
Instead of celebrating Halloween, I did chores as usual. However, I honestly did not expect to have such a brutal sinus headache.
Throughout the day and night of Halloween, it felt as if someone was crushing my skull on both sides. This was because I did not take my Zyrtec and because of the dampness in the air.
Whenever it rains or snows or is about to do so, my sinuses start bothering me. Eating and drinking hot and spicy foods and beverages are my normal rituals for sinuses. This includes sleeping with the heating pad on my head and face.
In order for the heat from it to loosen the tension in both my face and head, I normally rotate where to apply the heating pad. Also, gargling with Cool Mint Listerine helps.
Cool Mint Listerine helps to open my nasal passage because the alcohol is so strong. This last time, nothing I did helped nurse my sinuses. I even lost my appetite after eating 1/2 my Turkey Sandwich.
After eating only 1/2 my Turkey Sandwich for a late afternoon lunch, I started feeling nauseated. I thought making a sandwich would curb my hunger, until dinner. I ended up not eating dinner.
Between the sinus headache and nausea, I refrained from heating frozen shrimp for dinner and chewed on Dentyne Ice Gum. Mint gum typically settles my stomach. It failed last Tuesday.
An hour after I finished watching Fresh Off The Boat, I raced to our bathroom and puked turquoise. Yes, you read that correctly. Turquoise. Turquoise is only 1 of my favorite colors.
Why was the vomit turquoise?
I gargled with Cool Mint Listerine and was chewing Dentyne Ice Gum. That was round 1.
Then, my youngest aunt boiled some water for me to make Hot Lemonade. While watching MTV Classic 3 hours later, I took my thyroid pill. Literally a few minutes after taking the pill, I ran to our bathroom again for rounds 2, 3, and 4. I had not barfed that much, since 13 years ago!
In April 2004, I was still in college and had a torturous oral extraction done on a wisdom tooth. My oral surgeon prescribed me Oxycodone. Oxycodone is 5 times stronger than Hydro.
Regardless, I cannot take any oral medication with codeine in it. To paint you a pretty little picture, imagine a college student vomiting from alcohol poisoning. THAT'S how sick I was from taking Oxycodone in 2004.
Even though I haven't taken any oral medications with codeine in them for more than a decade, I puked like I did, last Tuesday night. My throat, diaphragm, waist, lungs, and arms were sore on the inside, after all 4 rounds of upchucking.
In fact, I was sore all week. It hurt to laugh at anything because vomiting from such a brutal sinus headache took a huge toll on me physically. Compared to last week, I am feeling much better.
Meanwhile, I am having a difficulty deciding what to do with my content. You may have noticed, that I changed the scenery for the next 26 days. At the same time, Webs' service has been terrible this year, including these last 4 months.
You cannot help noticing that the main page is still displaying blogs, that I published weeks ago when I have published many other blogs within the past week or so. Many customers are furious with Webs and their tech support.
Lately, I have been contemplating if I should relocate all these blogs from Webs to Blogger. If you have been subscribed to me within the last year or so, you already know that Blogger is my alternate site, whenever Webs has server issues.
Hypothetically speaking, if I ever converted my Blogger page into being my new website, I would have to import ALL 500+ blogs and other content to Blogger.
Do you have any idea how much more time it would take for me to relocate everything to Blogger?
Granted, I would probably generate MORE traffic on Blogger. Although, the transfer would be extremely tedious and time consuming. I would probably lose some of the content, that I slaved away on for countless hours, throughout these last 4 grueling years.
If it is not necessary, I really don't want to relocate everything. Therefore, I will try doing a little more experimenting with Blogger before coming to a final decision. In the meantime...

Thank you my gumdrops! Don't forget to like, subscribe, share, +1 on Google Plus, and leave your feedback in the comments section below!

Categories: About Me/My Writing/MORE