| | |
| --- | --- |
| Posted by Anna H. on October 17, 2017 at 7:45 AM | |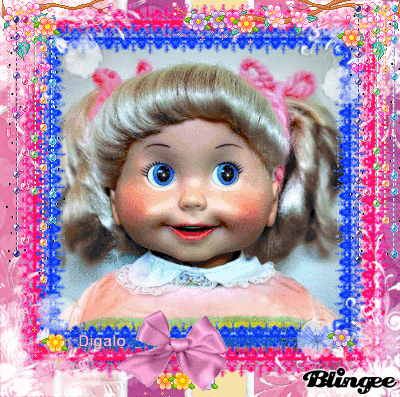 How's it going my gumdrops? Yes, the gif above is indeed creepy, especially with the twinkling stars in those blue eyes. Does anyone here in their 30's or older remember the talking doll, Cricket?
Playmates Toys' Cricket Commercial: (1986)
Growing up during the mid-1980's, Cricket was a very popular doll by Playmates Toys. She rivaled Worlds of Wonder's Teddy Ruxpin and the Mother Goose dolls. Cricket was similar to Teddy Ruxpin.
She was a talking doll with 2-sided tape sets, 4 C batteries for the player, and a 9-volt battery for her mouth to move. She also came with books. An older cousin owned this doll. I wanted Cricket but never got her.
Looking back, I can understand why my mother never bought me this doll. Cricket was creepy. Her eyes always moved, when she talked and she was a doll, that NEVER shut up.
However, I don't recall of ever seeing Cricket's mouth move, when she was talking. This is something I realized recently.
In addition to recently learning, that the doll's mouth moved, I discovered that Playmates Toys released 3 different types of Cricket dolls.
Did you know there were 2 black versions of the doll?
Black Cricket Doll #1:
Do you notice the differences in these 2 black Cricket dolls?
Doll #1 is identical to the original white Cricket doll, whereas doll #2 has short curly hair with no ribbons. It's amazing what you discover on the Internet!
I get the impression these 2 dolls were released after the original. Had my cousin seen these versions, she would've made her mother buy them because they were black dolls.
Not only did I recently discover that there were 2 other types of Cricket dolls specifically meant for black girls, but Cricket also had 2 siblings.
In 1987, Playmates Toys released a younger brother named Corky and an older sister named Jill. Jill was slightly different than Corky and Cricket.
Jill had voice recognition capabilities and cartridges compared to Cricket and Corky using tapes. There was another picture I saw of Jill. I'm not gonna lie to you folks. I legitimately felt creepy vibes, as a woman and a Horror fan.
Staring at Jill being out of her box and sitting instantly gave me goosebumps. Maybe I spent too much time watching Child's Play, during my youth.
Meanwhile, watching this video years ago was creepy yet hilarious at the same time. I'm still trying to decide who is creepier, Cricket or the guy in his basement? He looks like a serial killer filming Cricket, which can be viewed as somewhat disturbing.
In this video, Cricket keeps talking. I'm amazed the doll was still working, when this guy was filming her.
Playmates Toys' Vintage 1986 Cricket Doll: (2012)
Thank you my gumdrops! Don't forget to like, subscribe, share, +1 on Google Pus, and leave your feedback in the comments section below!

Categories: About Me/My Writing/MORE