| | |
| --- | --- |
| Posted by Anna H. on March 4, 2016 at 8:05 AM | |
Dearg Due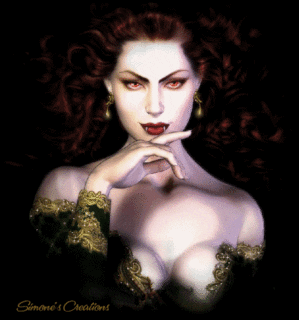 How's it going my gumdrops! Do you like the latest scenery on It's Not All Gumdrops & Unicorns? We are green for Saint Patrick's Day and spring!
Yesterday morning, I pre-planned the next 4 blogs. They are all Irish and Saint Patrick's Day themed, including today's blog.
As you already know, every country has its own folktales, including Ireland. It is only fitting to share a couple of Irish Horror Folktales, since I am a Horror fan with some Irish ancestry.
On Wednesday, I researched and learned about a few Irish Horror Folktales through IrishCentral.com. The folktales about Dearg Due, Leanan Sidhe, and Caorthannach stood out the most to me, which is why I am sharing them with you all today.
1) Dearg Due- In Gaelic, Dearg Due means "Red Blood Sucker." In the Irish folktales, she was an Irish vampiress, that seduced men and drained them of their blood.
Originally, Dearg Due was a young, beautiful woman, who had fallen in love with a local peasant. Her controlling father found it to be highly unacceptable.
This led to Dearg Due's opportunistic father forcing her into an arranged marriage and being sold off to an abusive, rich husband. Because Dearg Due could NOT escape from her abusive marriage, she committed suicide. She was buried near Strongbow's Tree in Waterford, Ireland.
After committing suicide and dying, Dearg Due rose from the grave as an Irish vampiress. Then, sought revenge by sucking her father and abusive husband's blood, until they dropped dead.
It is said that Dearg Due rises from the grave once every year and people must build piles of stones over her grave. This is in order to ward her off, until the next year.
2) Leanan Sidhe- Somewhat similar to the vampiress, Dearg Due, Leanan Sidhe was considered The Evil Irish Fairy Muse.
Leanan Sidhe was a beautiful, opportunistic, Irish woman, who gave musicians and poets their inspiration. The Evil Fairy Muse seduced poets and musicians with her intelligence, creativity, and magic.
Whenever Leanan Sidhe left them, they became depressed and died. Rather than sucking their blood, she would then take them back to her lair and collected their blood in a giant red cauldron.
Collecting poets and musicians' blood was Leanan Sidhe's source of beauty and inspiration.
Much like Dearg Due, people in Ireland must build stones over her grave.
3) Caorthannach- This Irish Fire Spitter was notorious for being Satan's mother and was defeated by Saint Patrick himself.
Supposedly, Saint Patrick stood on Croagh Patrick expelling demons and serpents out of Emerald Isle to drown in the sea. However, Caorthannach was more of a challenge.
Saint Patrick saw her sliding down a mountain away from him and chased her, while riding on a horse in Ireland.
Caorthannach purposely spat fire in the water and poisened every well she passed because she knew Patrick would eventually need water to drink.
Regardless of how thirsty he was, Saint Patrick prayed for guidance, while refusing to quench his thirst with water. After reaching Hawk's Rock, the saint waited for Satan's mother.
He finally banished Satan's mother from Ireland by jumping out from his hiding place where he waited for her. Then, Caorthannach drowned in the ocean and left a swell behind. It later became Hawk's Well.
Have any of you noticed that these Irish folktales are all about women? I know I have. Out of all 3 of them, I like folktale about Dearg Due the best. It is probably because I am automatically biased, when it comes to being woman scorned.
After researching and learning about these folktales, I am amazed that the writers of the TV series, Grimm have NOT created an episode about either of them, especially about Dearg Due. Maybe I should send the writers a few suggestions.
BTW: THANK GRIMM IT'S FRIDAY!
So, what are your thoughts about the evil women in these 3 Irish Horror Folktales?
Hopefully, you enjoyed learning about them.
Thank you my gumdrops! Don't forget to like, subscribe, share, +1 on Google Plus, and leave your feedback in the comments section below!
Categories: About Me/My Writing/MORE